The internet, once often called the worldwide web, has come a long way and quite rapidly. After the creation of this technology in 1989, millions of people had started using a computer.
In 1996, the mobile phone was developed with internet access, and just a few years later the smartphone was invented with internet capabilities.
In 2020, close to two-thirds of the world's population has access to this evolving technology, the internet. As you can see, technologies have evolved very fast and most of them are being used in today's modern society. Let's go over what we've seen and experienced over the past 10 years, pinpointing the key moments in technology and internet innovation.
10 Year Evolution of Technology and Internet Innovation
Take into consideration the following decade and the evolution of technology and internet innovation throughout these years. From 2010 onwards, each year brought something new to the system and each advancement had its own unique effect on society. Let's begin:
2010: A New Direction in Social Media
This was a significant time for social media networks and its users. Instagram launched in October 2010 and photo-sharing social media was introduced. Instagram brought a different type of view to the entire social scene.
The application was initially designed to focus solely on instant communication through images – hence the name Instagram – which could be done by uploading photos, commenting on other users' images and also liking them.
From a handful of users, Instagram became a giant in the social network landscape by gathering 100,000 in just one week, later increasing its user signups to 1 million in 2 months. Today around 27 million individuals globally use Instagram and is an effective internet marketing and social media advertising tool.
2011: Social Network Battles
LTE was officially launched for users to have rapid internet speeds. It was developed to be 10 times faster than 3G and superior to 4G speeds that are currently available. Not only does LTE give increased speeds but also improves performance capabilities. This gave the upper hand to website designers and app developers who could now add more details to websites and applications. LTE's increased bandwidth allowed designers and developers to create advanced gaming environments for gamers, along with real-time interaction with other users through mobile devices.
In the same year, we saw the launch of Google+, another social network owned by Google, designed to challenge other networks like Facebook, Twitter and LinkedIn. It was a useful tool, but the features it offered already existed within other services and platforms. Even though it isn't as effective as other previously mentioned social networks, it's Google's social layer and augments other services such as Gmail, Play Store and Search, and having said this, many digital agencies today use Google Search to competitively rank in its search engine. More regarding SEO (Search Engine Optimization) can be found here.
2012: Facebook steps up its game
This was an important year for social behemoth Facebook who reached 1 billion users, signifying their position as a leading social network. In the same year, Facebook became official owners of Instagram by paying $1billion in cash and stock and showing the importance of photos and other media online.
Both Facebook and Instagram together have played a massive role in the digital marketing industry, allowing more data to flow on their networks which translates into better mobile ads.
Consider the following, Facebook knew that Instagram had a slightly better idea of what its users were doing and what they like doing. Example, chefs take pictures of their foods, skiers take selfies on the top of mountain slopes, and so forth. Facebook's databases needed information like that of Instagram's to optimize the media it brings to the user. This data is worth a lot! So if you're a skier and want to reach a ski resort in the Alps, well Instagram could offer this, something that Facebook couldn't do at the time.
2013: The World is going Digital
By December of 2013, 2.7 billion people worldwide were using the internet, that's 39% of the world's population. Also, the number of mobile-cellular subscribers rose to 6,835 million from 2.2 million in just 7 years. These figures proved that we are clearly living in the digital age and we are evolving at a fast pace, with most of the world trying to keep up with technology and innovations.
2014: Connection in Real-Time like never before
The internet continued to change the way users and organisations keep in touch, do business, learn new things and also how they interpret and interact with surroundings. Billions of people spent more time on their mobiles (25% of web access was done through mobile phones in 2014), tablets and laptops, connecting with friends or clients through these devices in real-time.
Technology has helped agencies create campaigns that work across social media, display advertising and e-commerce with ease. At this point in time, the majority of marketers have gathered that they need to become savvier about technology, data and analytics by becoming more creative. They need to work closely with IT departments and technologists and understand the processes behind handling data, developing websites and running successful social media campaigns.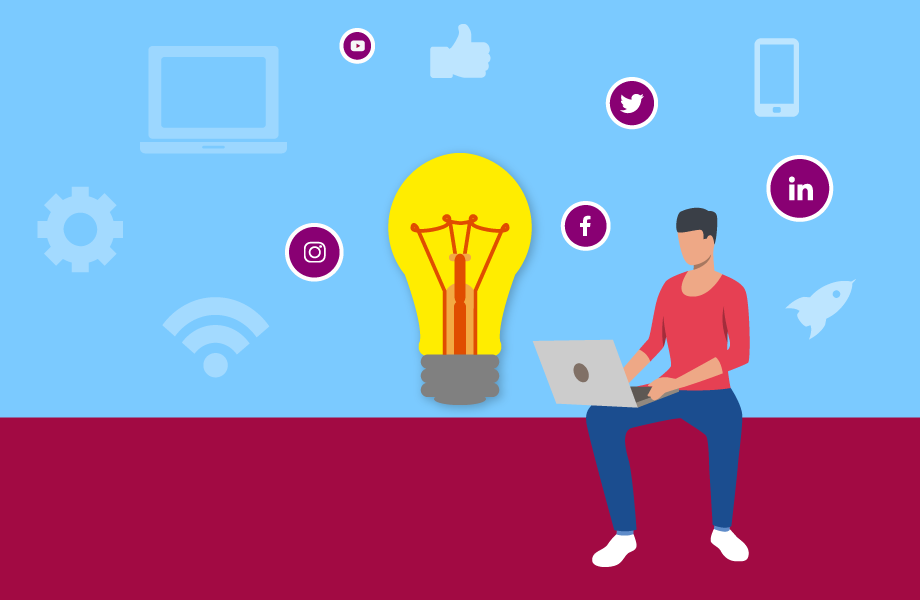 2015: Responsive Designs take flight
Responsive web designs have been around for a while now and most website designs have made websites look good on desktops only. But with 2015 kicking in, most digital agencies made it a priority to make websites look great on desktop, mobile and tablet devices also. Agencies began showcasing the responsive design idea of bringing a responsive menu to entire sites by opting for vertical menus on the left or right side of the page that acts like a slide-out menu. This feature keeps the website design clean and functional up until today.
Other trends in 2015 bring larger typographies and larger headings in many site designs in order to enhance the visual hierarchy of the site page and simultaneously grabbing the attention of the user. The most important content is placed at the top of the screen so you don't have to scroll, making websites interactive. This new strategy and design method also helped emphasize keywords on websites, improving rankings on search engines like Google.
2016: Adaptation to Technology to Improve our Lives
From 2016, profound technological transformations were shown, especially in regards to connectivity. Our homes, our cars and life itself was and still is navigated through a series of screens.
At this point in time, we want everything at our disposal, and we want it simple, entertaining, disruptive, personal and at the same time, right now. These transformations required agencies to define new business models, they required agencies that collaborate transparently at various points across different innovation horizons. Speed and scale were required and agencies themselves were in need to transform also to enable their client's businesses to transform. How? Simply put, by fully adapting to the times and using the latest possible techniques and strategies to get the best results.
Another significant event this year was also the introduction to 5G, a move into the next generation of mobile broadband. 5G technology is hundreds of times faster than the previous 4G wireless technology and it required a shift in how businesses think.
Media and advertising needed to adapt to the new processes and behaviour that this new tech would bring. Social media would be experienced in a real-time like never before – as if other parties abroad were in the room. Additionally, the 5G technology was also designed to bring brands closer to the consumer. Greater involvement, trust and desire would help strengthen the relationship between the two parties.
2017: Internet Economy fueled by New Internet Innovations
There was noticeably a large focus in internet economy and technological change. The world as we know it was and still is hyper-connected and all sectors of the economy will have technology embedded in one way or another.
The next 10 years would show a massive evolution in internet economy which will be fuelled by innovations in technology such as Artificial Intelligence, Blockchain and the Internet of Things (IoT). We see these technologies affecting certain features and industries in today's society with greater visibility over transactions and assets or smartphones being equipped with bar codes.
Furthermore, there were improvements in the digital and internet marketing industry. Everything from creating a Facebook Ad to digitally transforming how marketers interact with consumers captured a large percentage of the world's revenue for agencies of all disciplines.
2018: Better Internet Connection, Better Human Connection
Improved 5G networks that offer faster connectivity at low latencies and lower power consumptions were promoted this year. Mobile connectivity was and still is faster than before and will fuel innovation in augmented reality, virtual reality, media, cloud services and the IoT. It will create business opportunities throughout many industries including the digital and internet marketing industries.
Another key aspect of 2018 was optimized communications. It's clear to see that businesses cannot function successfully without connection or communication so internet speeds in general improved significantly this year. The faster and better internet connections become, the faster and better human connections become also. This goes without saying, that it improves the way agencies produce work also, by maintaining a strong connection between the agency, their team – either local or abroad – and of course their clients.
2019: Digital Agencies want Internet Innovations
According to a report in 2019, "Clients are expecting end-to-end solutions, the agencies are fighting the consultancies, and everybody seems to be racing towards the middle." What was the result of this statement?
Some agencies have been forced to re-evaluate their business models because much has changed in terms of how a client expects their business to be serviced. The work that agencies produce is not enough, but what the client expects from an agency and how they execute each and every stage of that work.
Various digital agencies tend to work with different internet innovations and in this regard, there is much growth. For instance, Facebook and Google will be able to support agencies and solve much of the heavy lifting and just like before, agencies will be working with APIs. Whatever impacts at scale will not need a custom solution in time.
We saw a great commercial impact by content marketing also. There's a reason why "content marketing is king" and the major reason is that it can be applied by all types of businesses regardless of the size or industry. If the strategy is followed and implemented correctly, it can make a positive impact and fuel all digital channels from search to SEO to social media marketing.
2020: A Glimpse into the Future
A new year and new decade is here and internet innovation is continuously improving and expanding. Major innovations such as blockchain, artificial intelligence, virtual reality and augmented reality are the future of society and most trends, if not all, will eventually revolve around these.
The digital marketing landscape, for instance, is a large sector that's bursting for opportunities like this. Can you picture yourself in a world where voice search will be used in conjunction with A.I, or perhaps influencers with virtual reality or blockchain? Combining internet innovations with recent technologies and trends can be likened to a road into the future.
If you're out of date with trends so far, then your brand reach and repetition is limited. Marketing trends in 2020 like chatbots, voice search, micro-influencers and programmatic advertising need to be seriously considered, as we see the general pull of digital marketing going in the direction of a more personal relationship with targeted niches.
Taking into consideration the above, the means of creating those connections rely on new technology and innovations. Digital marketing's heart though remains the same as people get what they want and how they want it, with the new decade and its technology opening new ways and opportunities.
In order to stay up to date with internet innovations and advancements in the digital marketing industry, get in touch with us today and get your free consultation so that you, your brand and business are aligned with all the latest trends of this decade.
Published on February 10, 2020