Having a balanced strategy for your Internet Marketing here in Cyprus is important for numerous reasons, it will help you define your business goals, build relations with your customers and achieve profits through low-cost advertising campaigns.
However, there's no one way to spend your marketing budget. In this article we will look at three ways to have a balanced strategy for Internet Marketing here in Cyprus, so consider the following:
Marketing Campaigns for Local Businesses
A local business can be anything from a small shop to a restaurant, mini-market or anyone selling products or services locally, not targeting anyone outside of Cyprus or throughout Cyprus.
Your priority should be to have a presence on Google Business location, making it possible for visitors to reach the company in a simple manner just by typing the business name via the Search Engine. It's very frustrating when you're looking for a company and you cannot locate the firm's business telephone number. Due to this, it's crucial for any business to have updated information on Google Business location.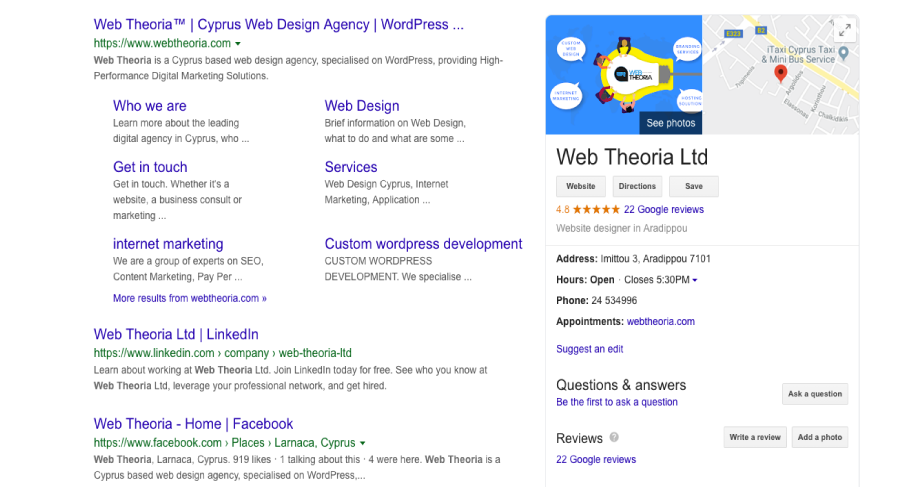 A portion of your budget can be used towards building a strong media presence which is very important for local businesses in order to interact with their customers in Cyprus. Facebook and Instagram are the most popular networks; these are the stronger ones and have the biggest effect. Facebook has more conversions ultimately but if you are looking to keep your audience updated, then Instagram could produce a higher impact.
Setting a monthly budget for promotional posts is a low-cost way to get exposure for your business. If your business has a website, you should allocate part of your marketing budget on web ads in order to draw in more traffic.
Businesses that offer Services throughout Cyprus
The following advice applies to larger shops, restaurant chains, franchises or e-businesses (online stores) that target customers from all over Cyprus. The campaign would be different from that of a local business.
You could add social media marketing for Facebook and Instagram and the reach would be all over Cyprus. We encourage multiple campaigns that can target and focus on the interest of people that are more likely to be converted.
Depending on your budget, you can widen or narrow your target group based on interests, age or gender. Generally, the narrower you want the target to be, the higher the cost and vice versa.
If you have e-business and you're selling via Facebook, then a website will give customers more confidence to buy from you. It doesn't matter if you're not selling products on the website, but just having an official website offers credibility and trust. For e-commerce websites, we highly recommend a new type of campaign where you can feature your e-commerce page directly on your social media accounts. This will provide much more flexibility in creating boosted ads and posts.
E-businesses and product-based websites require heavy advertising through google ads that are directed to specific products. The optimal campaign includes search ads, display ads, remarketing, and a general search engine optimization (SEO) strategy. SEO targets high rankings in the organic search results which lower the overall marketing campaign's cost.
This strategy requires that the customer has an SEO friendly website. Here at Web Theoria, we always advise our customers to select an SEO optimized website solution during the development stage since spending a little extra money, in the beginning, will save you a lot more in the future. Although in most cases we can still optimize a website for SEO after development, especially on custom WordPress websites, it will be challenging to achieve the same results.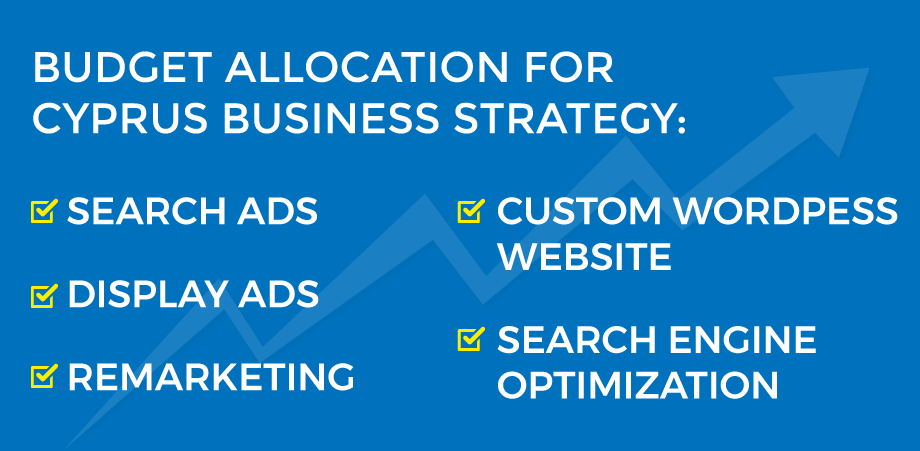 The budget allocation for the above campaign would be 40% on social media, 40% on SEO and 20% on Google Ads. This is a well-balanced initial budget distribution for a local Business here in Cyprus. Over time as your social media organically builds up and your SEO strengthens, you will be able to lower costs and allocate more funds on retargeting ads.
Businesses offering Services Internationally
For these types of businesses, social media is not the main sales tool, unless you are selling products that you ship internationally, which is not common here in Cyprus. Most companies in Cyprus that target international customers, offer Tourism, Real Estate and other types of services that can be offered within the island.
This case requires a long-term marketing strategy where SEO is the most important tool. It requires thorough planning and research for the right keywords. It is important for businesses to understand that this type of campaign can take more than a year to bring positive results.
Your social media accounts can be used mostly for business networking purposes to enhance your online presence and to show that your business is active, so it is important to keep them updated. There is no need for expensive social media ads unless they are delivering conversions.
The suggested SEO strategy would involve working on off-page optimization. In competitive markets, off pages are fundamental for increasing traffic especially for newly developed websites that have no off pages whatsoever. This means you will need to run press releases and produce relevant and valuable articles on international websites, blogs or other directories. Although it is a costly process, it is worth the investment since it will not only help you increase your website's traffic, but it could also get you media mentions.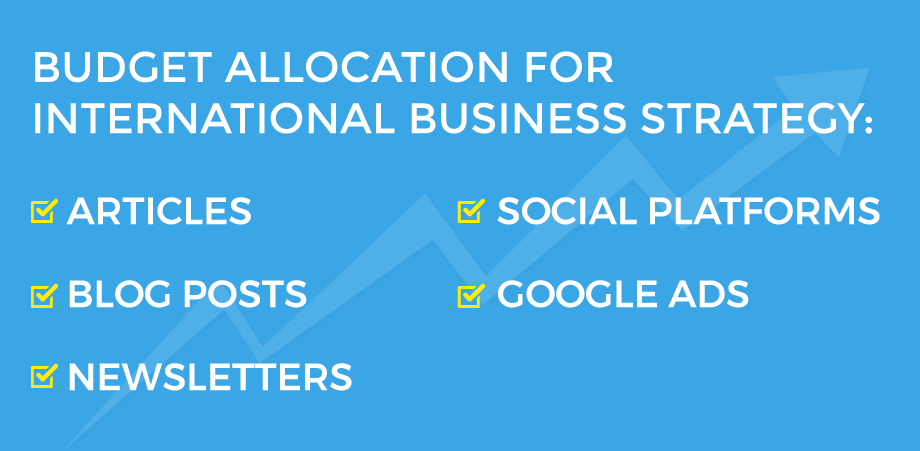 Google Ads are another important tool when targeting international clients because you can narrow down your target audience by selecting specific criteria such as country or demographics. If your budget allows it, you can also invest in display advertising to draw in traffic and create brand awareness as well as remarketing ads to increase conversions.
Furthermore, consider a newsletter strategy to keep your audience updated frequently. This could be on a daily, weekly or monthly basis depending on the content or services you have to offer. As a general rule, newsletters should be sent out no more than twice a week and at least once a month. Monitoring the canceled subscription rate is a good indicator to decide on the frequency of your newsletters.
So how can you determine the best budget allocation for your marketing strategy? When you are dealing with an international strategy, it all depends on the budget amount. If, for example, you have a high budget, then the SEO percentage allocation will be lower because you will be able to spend more on Google Ads.
If, on the other hand, your budget is low or waiting for the results doesn't concern you, then we recommend that you use your budget on SEO. This option is usually popular with companies that have a second or alternative business in which case SEO gives them enough time to build the business before traffic gets overwhelming and hard to keep up with.
Conclusion
Internet Marketing has been around longer than the Internet itself, so making good use of it and balancing your budget with a well-organized strategy is vital if you want to reap the benefits in terms of positive growth for your business. Our team of experts at Web Theoria can help you achieve this.
---
Published on October 03, 2019