Web Theoria's main tool for the creation and management of websites is WordPress, in fact, 90% of the websites we create are powered by WordPress. You might ask what exactly is WordPress?
It is a content management system that provides tools for website creation and storage based on CMS. With the right knowledge, WordPress can be custom developed for any website. Here at Web Theoria, we use it for a range of clients in many sectors from real estate, e-commerce, and travel.
The platform of WordPress is always looking for new ways to improve and as one of the most popular tools for website creation, you may wonder how does the world of WordPress affect my business? What is the future of WordPress? To gain insight into where WordPress is going it is beneficial to see where they came from first.
The Creation of WordPress
WordPress was created in 2003 by founders Matt Mullenweg and Mike Little. It was created following the end of B2/cafelog that was an unmaintained news/weblog tool, following the end of the platform the creators of WordPress saw a gap in the market and took the opportunity to create the first version of WordPress.
WordPress Stands out Amongst the Crowd
WordPress was and still is far from being the only website development tool but in 2005 it began to stand out among the rest, turning heads of many developers as something innovative and different. This was because in 2005 WordPress introduced themes, it was one of the first real and authentic ways for developers to customise websites on a code level, something that was never fully available before.
Continual Updates and Improvements
From 2006 onwards, WordPress continued to build on its brand and rolled out tools for improvement on its platform. For those who mastered the tools available, they benefited from CMS features like custom post types and taxonomies. Multisite functionality has been made available in the core, safety improved, WooCommerce, and mobile responsive layouts rolled out.
WordPress as we Know it Today
Our developers have witnessed the journey of WordPress over the years mastering every update. The continual development has led to WordPress becoming one of the most widely used website builders with 34% of all websites powered by WordPress. Other milestones for WordPress include:
WordPress dominating 76.4% of CMS Market Share
1.48 Billion Plugin Downloads
Available in 68+ languages
14.7% of the top 100 Websites are powered by WordPress
A total of 98 versions of WordPress have been released to date.
WooCommerce powers 9% of all online stores.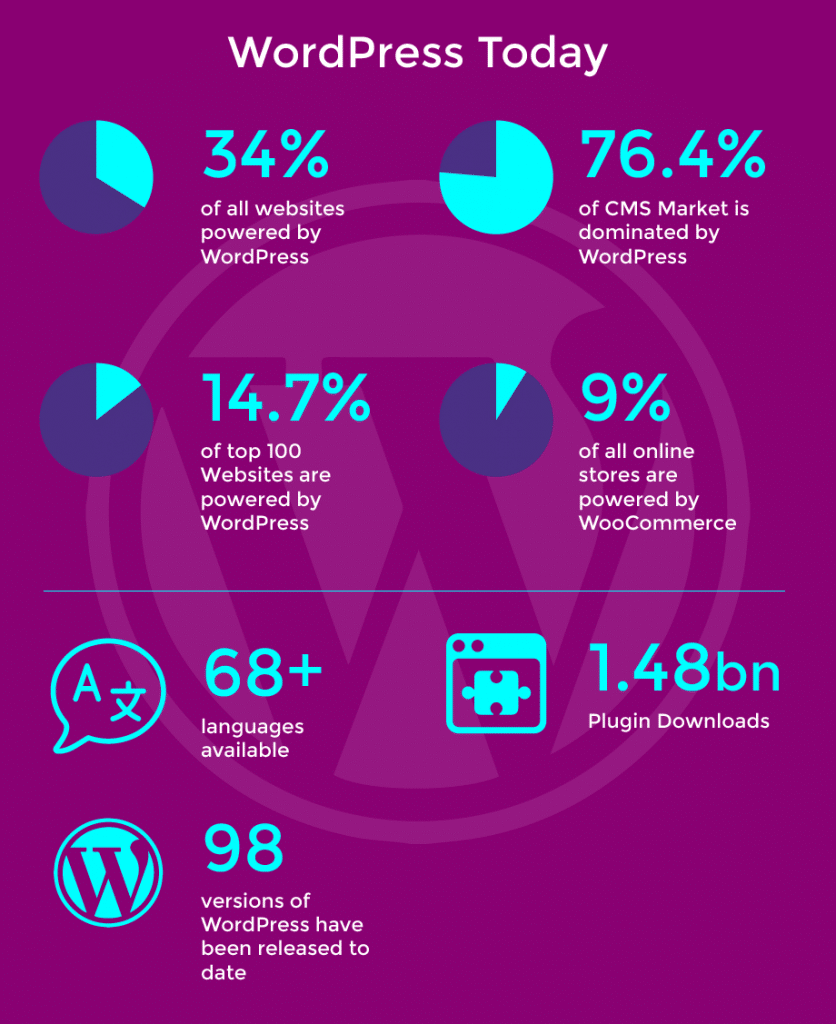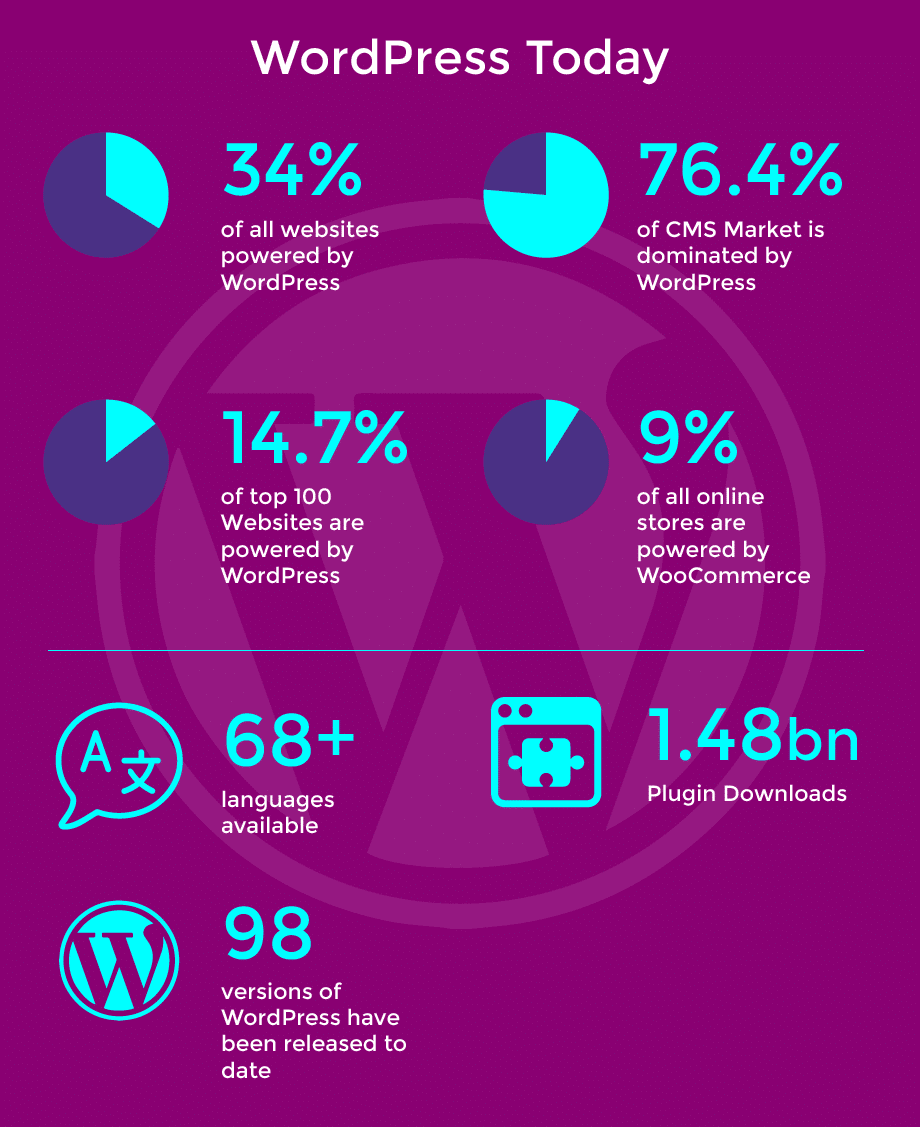 However, despite the impressive statistics, WordPress will not stop growing and developing as there is always room for improvement and innovation in the world of web development.
The Future of Word Press
As mentioned above 98 versions of WordPress have already been released and this is not about to stop. As improvements are made, the core of WordPress changes and require websites to update to the latest features and functions so as to stay relevant and up to date with website functionality. Our experts have the knowledge and skill to properly use the tools and updates to the best ability and full capacity for the advantage of the websites we maintain. Readers may wonder as to what these updates are and how exactly does this affect your website and business?
Popularity of WordPress
Functionality rolled out in WordPress is to ultimately create a user-friendly service that is accessible to many people thus, increasing popularity. For WordPress to become more friendly, user interfaces continue to be updates and UI attempts to predict the next step in development and building. Due to the growing rate of popularity more and more people attempt to use the tools WordPress provides and although WordPress continues to take steps to make things more simple and clear, it still has a long way to go before non-techy people are able to use WordPress to its full ability.
Support for Language
As bigger companies and brands are using WordPress many of these companies have an international reach and require a website in multiple languages. In fact, some of our own clients require full translations of websites in up to 4 languages for one website.
WordPress is working on providing more themes that are compatible with translations. Currently, the language for auto-translated websites is not always up to scratch and therefore requires independent translation. The time taken to upload translations for full websites can be extremely time-consuming for developers. In the future, WordPress will work on creating a more efficient system to upload and store translations that also do not interfere with the functionality of the original website.
Speed
The speed of websites is always an ongoing battle. A fast website may undergo an update or feature a new upload and just like that speeds can be affected drastically. WordPress is aware of the battle and continue to improve speed. This year in 2019, one of our teams' main tasks and goals has been speed optimisation for clients, increasing the rating of websites and carrying out trials with google speed tests. As WordPress improves features it will help our team to continue to maintain and optimise speed for our client's websites.
Security
Security is essential for any website and something that we value and uphold. Like speed, security is an ongoing factor for all websites that continually needs to be monitored and improved as hackers create and develop new means for attack. The core of WordPress is very secure however there are still various avenues in which a WordPress site may be compromised. To cover these possible weak spots, technical knowledge is required to identify and implement the right solutions that are offered by WordPress plugins.
This has been another task for our team over 2019 to study and use the latest premium WordPress plugins to enhance and test security for our clients. No doubt that in the future WordPress will continue to roll out new developments and plugins to help tackle the threat of hacking.
How Does This Affect Your Website and Business?
A positive factor you can take for the future of WordPress is that WordPress ultimately has the goal of becoming more and more relevant and useful. This means that your website will personally benefit via relevant high-tech security, and high speeds no matter what type of functionality the site may feature.
As functionality and options expand, no doubt even more websites will migrate or be created with WordPress. This will open the floor to beginners who may be satisfied to have a business website with simple functionality that looks similar to many others.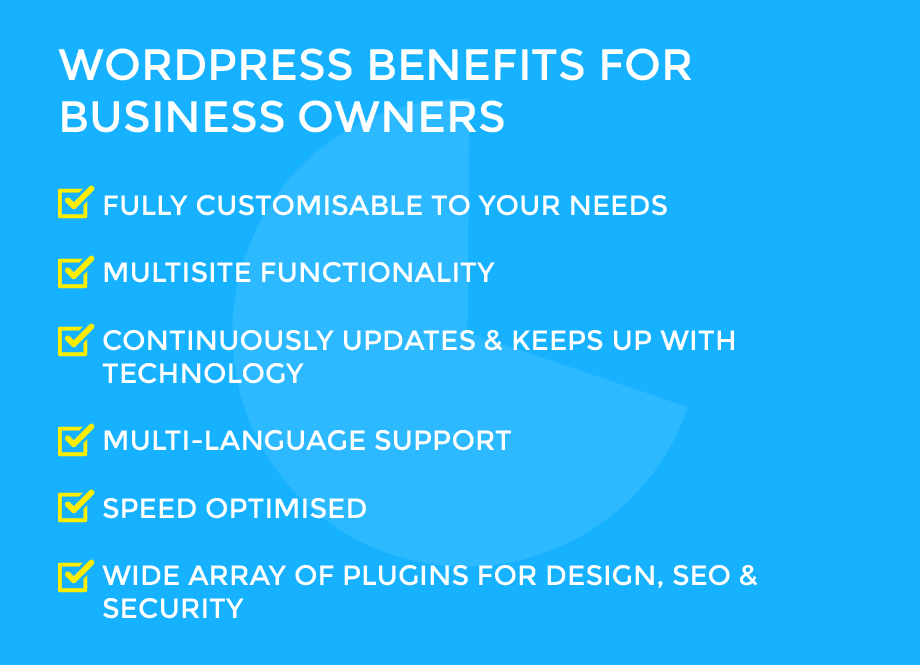 However, for those who need a competitive website to represent the uniqueness of their brand, to stand out among the rest this will mean that due to increasing popularity it will be vital to optimise your website to maintain a high standard of user experience and interface in the digital market.
This is where our experts come in as yes, although WordPress has goals of providing tools to beginners to build websites, ultimately it is the equivalent of providing materials and equipment to someone with no construction experience and expecting them to be able to build a house. Even if the person succeeds in building something functional it will be a far cry from a luxury mansion.
The future of WordPress is vast and will benefit your business however in the growing market of websites it is essential to stay ahead of the game with unique custom websites. Not only should a website look and function highly but even the best of websites need help in being discovered. Our experts at Web Theoria are trained in using the latest SEO tools provided by WordPress to make sure your website and business are found by the right people.
Published on December 12, 2019