It's been mentioned time and time again, about the importance of digital marketing and how it affects our everyday life.
The fact of the matter is, marketing strategies are a means to connect individuals with a large audience and thus build a relationship that comprises of trust and to help sell products or services. Some individuals may need convincing of how these strategies work and how effective they are.
There are different digital strategies that currently exist and are used by companies in Cyprus, we will consider the statistics of a few.
SEO Marketing
One of the most vital strategies in any marketing campaign is Search Engine Optimization. Even though it's not rocket science, it must not be taken lightly in order to have a good effect on your digital strategy and ultimately see positive statistics and results.
SEO's main goal is to boost your search engine results, and it does so by sending relevant signals to search engines, letting them know that your website is worth checking out. SEO marketing strategies are an effective tool and you can see some statistics below that proves this:
Google's share of the Search Engine market comes to approximately 93%
The share of traffic received by firms that show on the first page results are 92%
First-page result websites receive 91.5% of traffic
The decrease of total visits from organic search is approximately 2%
The total amount of spending on paid search marketing amounts to 41%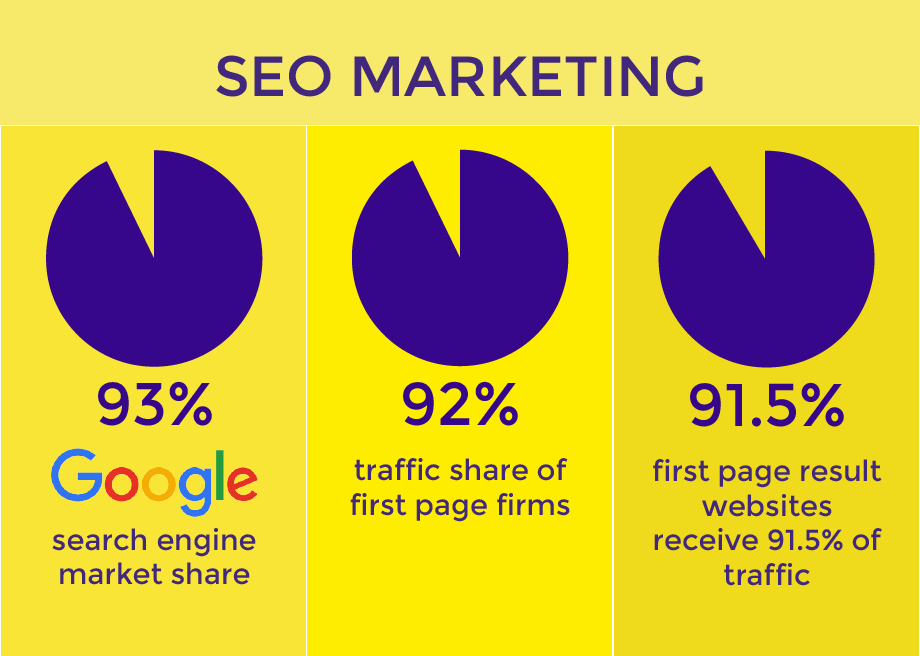 Organic Search Vs Paid Search
Google represents two completely different traffic sources to inbound marketers – organic search and paid search, to benefit from these two sources, you will need to use the method of SEO.
Organic results are what appear in the search engine when you ask a question or input something in the search field. Organic results are based on the quality and content of web pages and to make this strategy work you will need to remain persistent, patient and put a large amount of effort before reaching the first page, but it pays off in the end as it proves to be more cost-effective. Organic traffic is considered more valuable for your traffic source for the below reasons:
Organic traffic is the most trusted source for users researching a purchase and Google directs the majority of this traffic
Google's algorithms are particular about rankings, so having a top 5 search result shows your content is of high-quality and most relevant
Results on Google's first page receive 92% and traffic drops by a whopping 95% on the second page
Google's first listing receives 33% of clicks
On the contrary, paid search is a method that companies use to pay to appear at the top of search engine results.
As you browse the search fields, you may notice a small box on the side of each Meta Title, that reads "AD", most users are not aware that these are paid advertisements, making these Ads fit into the results and seem less conspicuous.
As organic search has become more competitive over the years, paid search has become more popular. Why? Well, you pay for the chance to be seen on the first page of search engines immediately.
Content Marketing
This form of marketing has become very popular in recent years because you can reach a greater audience. Large firms have increased their profits via content marketing by marketing their products and services. Check out the following statistics to see how high quality content can boost your company's overall performance and sales:
55% of companies view blog content creation as their main marketing priority
60% of companies produce at least 1 piece of content on a daily basis
50% of companies say research reports produce the highest conversion rates
90% of companies used content marketing in 2016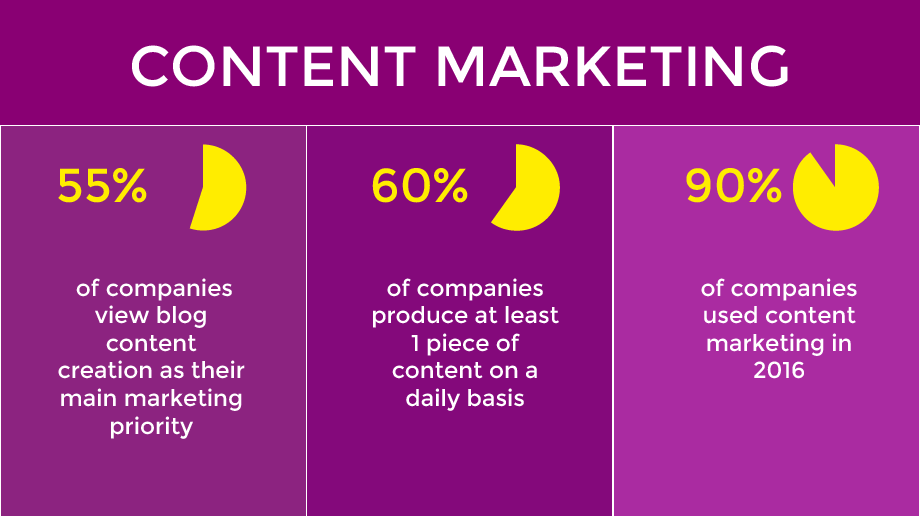 Mobile Marketing
Another form of digital marketing is mobile marketing. This method has become increasingly popular due to the fact that the use of mobile devices is higher in this era than any other before.
Mobile marketing enables greater reach to a wider audience. According to statistics, the average household has 3 mobile devices and there is 88% of Cyprus' users accessing the internet via these devices.
With today's technology taking over, mobile devices can handle virtually all online transactions. Consider the following statistics to get an overall idea of how powerful this method is:
70% of digital media is spent on social networks via a mobile device
50% of users use search engines firstly via their mobile phones
Top objectives for mobile advertising is boosting engagement and brand awareness
$33 billion is the forecast growth in targeted mobile spending by 2021
Social Media Marketing
Social marketing is yet another popular form of digital marketing. In most recent years, social media has been an important part of most people's lives and so companies look to social media marketing to engage their audience in the most effective way.
Facebook and Instagram are the most popular networks here in Cyprus, but LinkedIn and Twitter can be used for a wider and more international engagement. We will focus generally on the effects that the former social networks have on companies and individuals in Cyprus.
For those who want to boost sales and create brand awareness, this type of marketing method can do a great deal for your business.
Check out the statistics which involve Facebooks network here in Cyprus and internationally:
79% of Cyprus' entire population uses Facebook
290,000 of the population of Cyprus were between the ages of 25-34
2.4bn monthly users globally, are actively on Facebook
1.56 billion active users log into Facebook on a daily basis
74% of individuals globally, use Facebook for professional purposes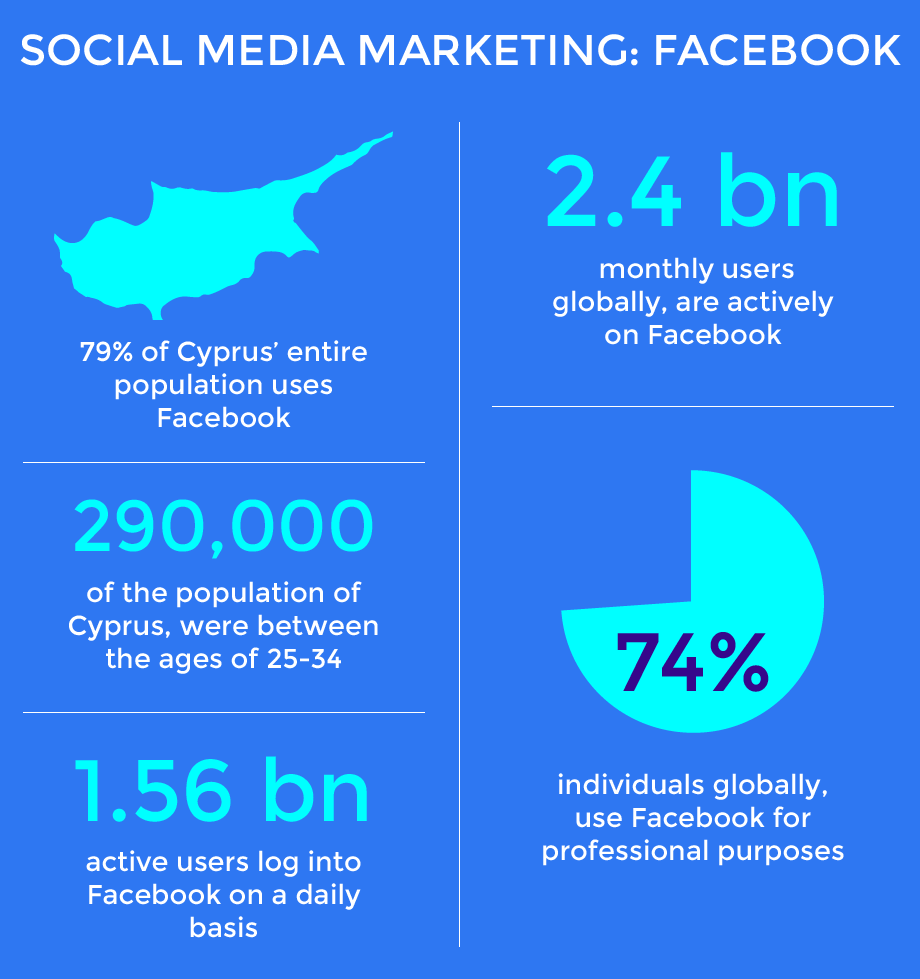 Check out the statistics which involve Instagram's network here in Cyprus and internationally:
45% of Cyprus' entire population uses Instagram
181,000 of the population of Cyprus, were between the ages of 25-34
71% of all Instagram users are under the age of 35
500 million people use Instagram on a daily basis
Instagram is set to hit $14 million in revenue by the end of 2019
1 billion monthly users globally, are actively on Instagram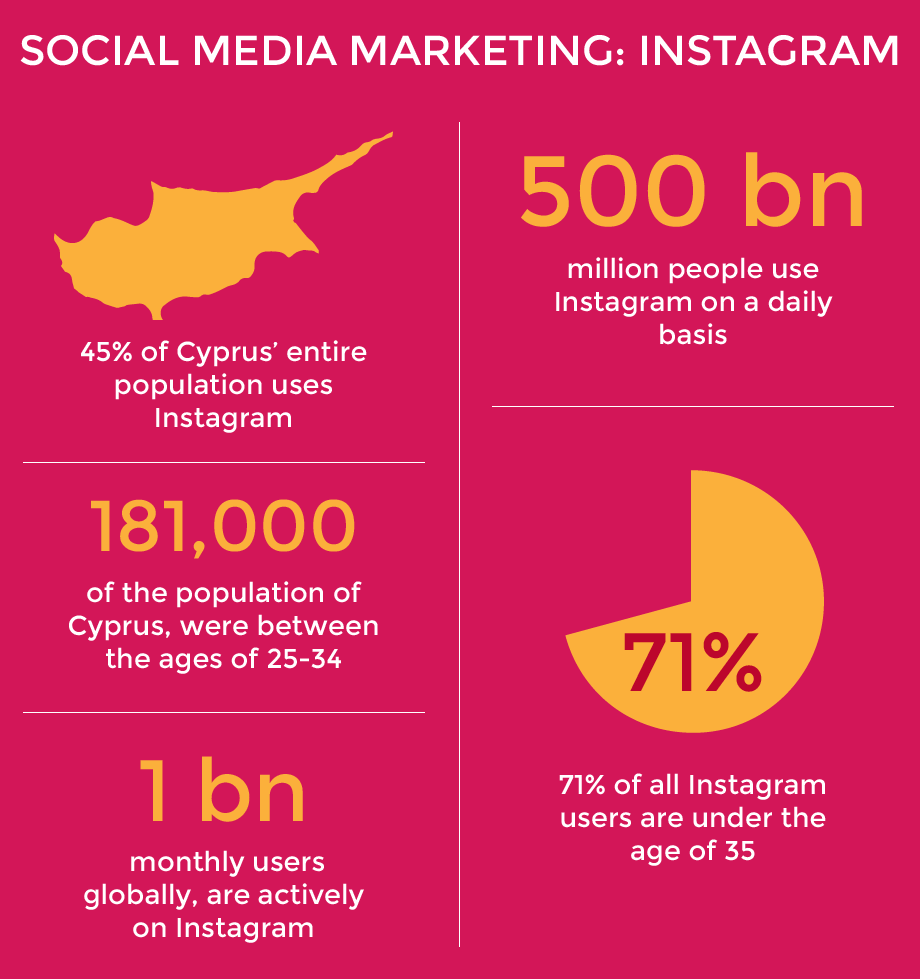 Final Thoughts
You've discovered the various options that you can choose for your digital marketing and the statistics for each avenue. Each method will help boost revenues, reach prospects, assist in making new customers and build a greater audience.
Each business needs its personalized approach, whether its social media, content, SEO marketing or mobile marketing, you need to ensure it's the right digital marketing strategy for your brand.
Make sure your business gets the right attention and start investing in digital marketing. If it's something you feel might be challenging, our team can aid you in this endeavor. Web Theoria can assist you in monitoring your digital marketing campaign more efficiently. It will be one of the best investments you can make for your brand.
Published on October 10, 2019