In a world that is constantly picking up the pace, people demand their needs to be met instantly – next day delivery, fast food – which brings our attention to the next big thing, voice search.
What is Voice Search?
Introduced by Google in 2011, this technology that is becoming increasingly popular allows users to speak into a device such, as a phone, instead of typing words to generate a search result. Audio technology in the device understands what is said via speech recognition with high accuracy.
Although the technology is only now becoming widely used, it has been around for some time through programs such as speech to text and voice dialling. Thus, speech recognition has been well tried and tested so consider the below facts.
Voice Search the Facts
20% of searches are done via voice
31% of smartphone users worldwide use voice tech at least once a week.
50% of all online searches will be voice-based by 2020.
30% of all web browsing sessions will be done without a screen by 2020.
55% of households are expected to own smart speaker devices by 2022.
Almost 20% of all voice search queries are triggered by just 25 keywords.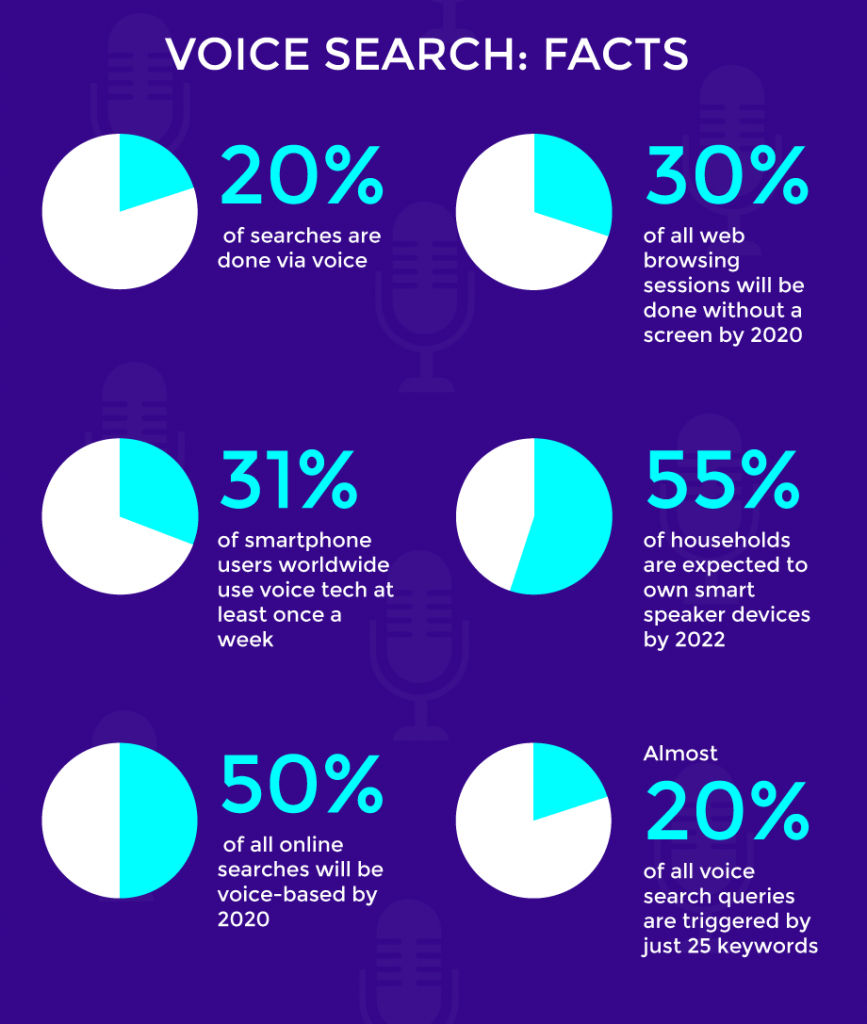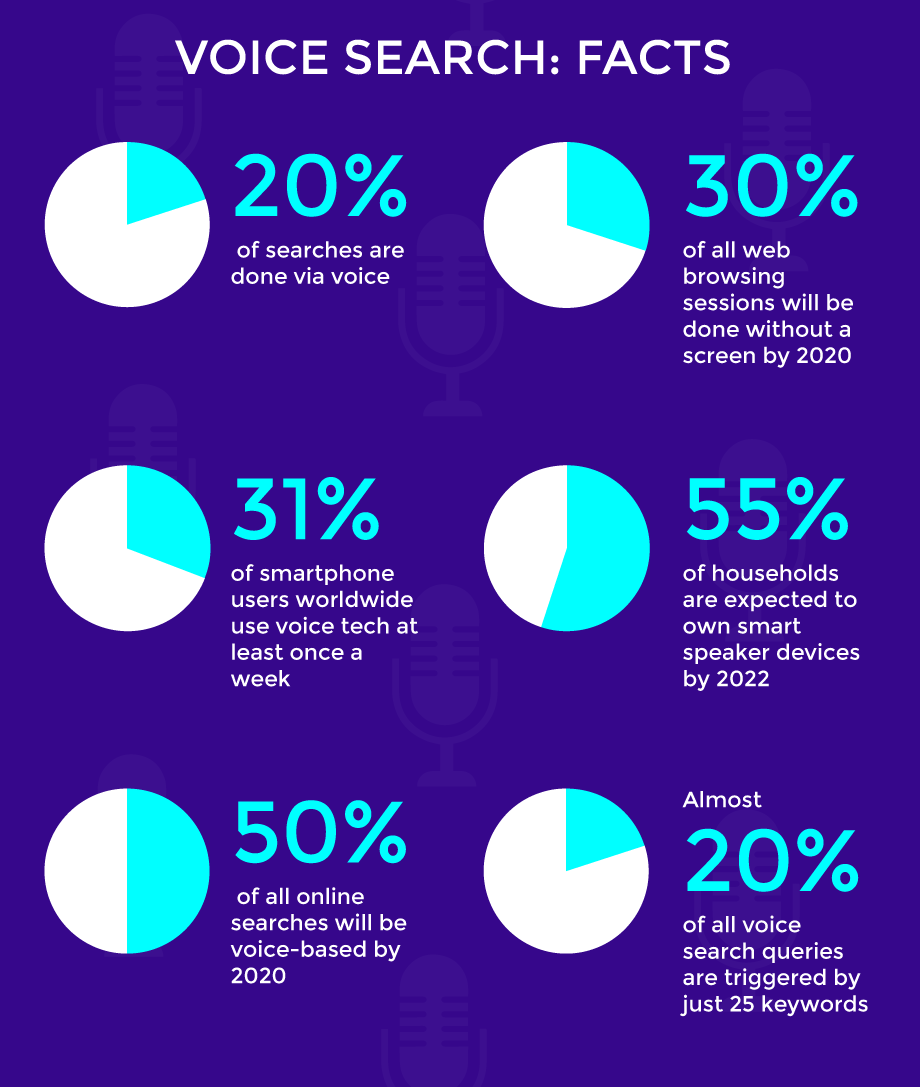 How Will Voice Search Impact Websites?
According to Forbes, it is predicted that by 2020, half of all online searches will be made via voice search. This change will remove the user's ability to scroll through results selecting a website for themselves. Instead, platforms such as Google will provide the users instantly with the top-ranking website. In the majority of cases, voice searches will prioritise featured snippets. For those not familiar with the term, it is the organic search result that is featured on the top of Google. Below is an example: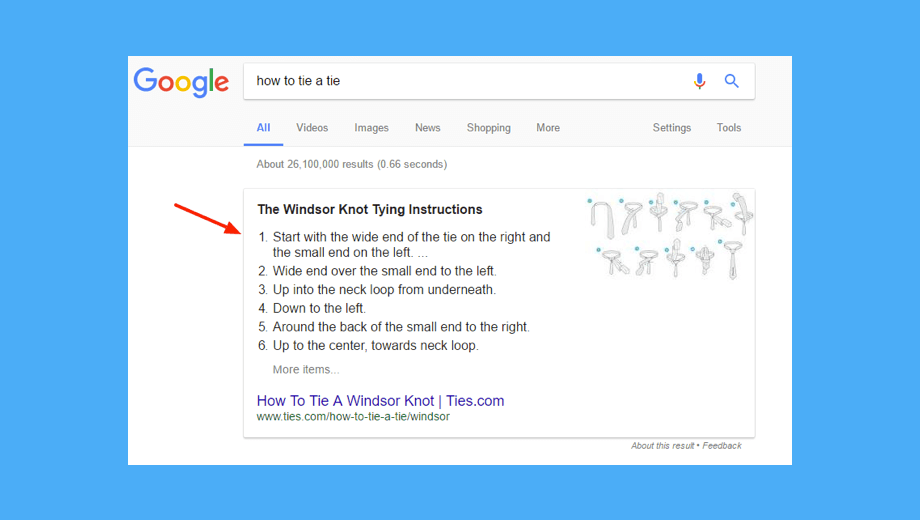 Image Search Engine Land
To rank highly in Google, it is vital to manage an SEO campaign for your business. However, with voice search, SEO tactics differ from traditional methods. For Google to prioritise your website for a snippet that will be used in voice search, you will need to focus on creating content that answers particular questions. To keep in this theme, it is recommended to arrange your content in a Q&A format and for the best results in all areas of SEO, ensure your content is relevant and high quality.
Change in Phrasing
Studies have revealed that when users conduct searches via voice, they take on a more conversational manner, as opposed to typing. For example, users may type "weather in London", whereas with voice search one can say "what is the weather in London?", phrasing there searches as a question. This small change in structure ripples down to SEO, where to stay relevant a question and answer format will change the nature of the marketing landscape. Due to this, companies may have to revaluate keywords and content to ensure they remain relevant.
Keywords will have to be adapted to longtail keywords that sound more natural and conversational. This presents the challenge of conveying potentially in-depth high-level information into clear, simple conversational text that will fit the right phrases.
Change in Devices
People have long moved away from searching only on desktops. With improved technology features in mobile devices, more and more users are searching via voice search on the go and it's the perfect way to multitask when you do not have your hands free.
As a result, websites need to ensure they are not only mobile compatible but that the content and layout is specifically optimised for mobile devices. Studies reveal that 70% of consumers are more likely to purchase from businesses with a mobile-friendly website. To create a mobile-friendly website you need to check and improve webpage loading times & use larger text so that users can read clearly without having to resize the screen. Redesign any pop-up ads and call to actions. Above all, your information or product should be clearly presented and easy to find.
Local SEO
Studies have also revealed that 22% of voice searches are location-based, with high amounts of searches on phrases such as "near me". For local businesses, it is a great opportunity to take advantage of location-specific searches & create an SEO strategy around this.
To improve the local SEO, you can create a Google business account or if you have an existing one, optimise it. Gather and present positive reviews for your product & service, but also add local keywords into your content. If possible, it would be beneficial to add a location page.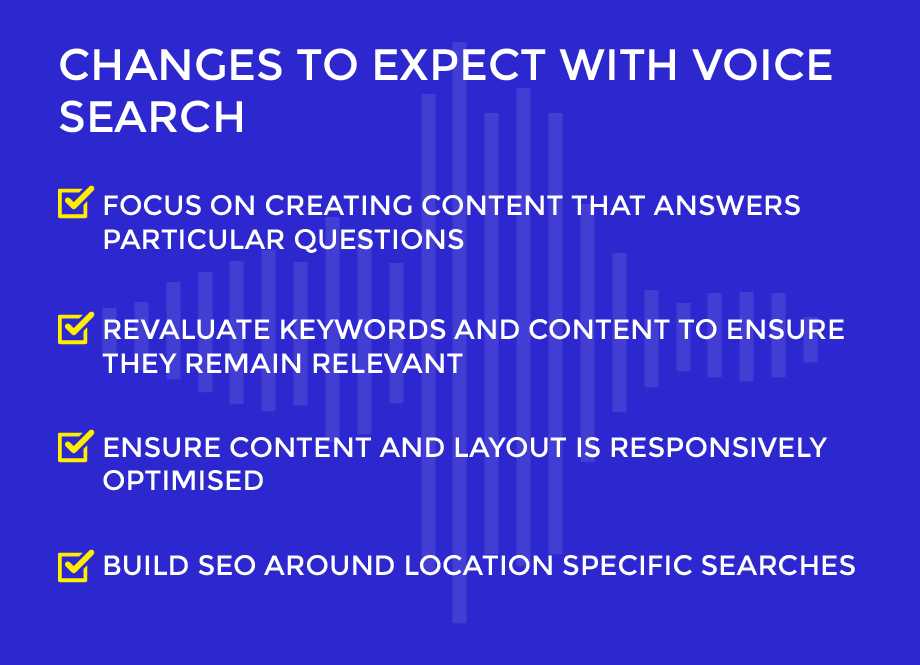 Why this Concerns You?
As you may have discovered from the article, the above information concerns every website owner. With Voice Search, the digital market is set to change, therefore it is now time to assess if your website is ready. As we further evolve into the digital world, SEO tactics are more important than ever.
So, is your website ready? If the answer is no, then Web Theoria is here to help! Our digital marketing experts would be happy to assist you in assessing, creating and implementing a plan to ensure your website is optimised for voice search and not left behind. Get in touch with us today for your consultation!
Published on November 21, 2019