Many small companies and large enterprises have embraced the fact that working along with key influencers can help build their business. It is indeed a strategy that has evolved through the years and continues to grow and become more effective.
In order to proceed, we must understand what an influencer is and what they can do. Influencers are individuals with a certain power to affect other people's opinions, decisions and habits. This happens due to their authority, knowledge, position or relationship with an audience.
Typically, influencers were political figures or high-profile individuals such as Martin Luther King, the leader of a Civil Rights Movement or Jamie Oliver, the world-renowned chef and restauranteur. The recent social media expansion has made it possible for anyone to become an influencer. People have become their own paparazzi posting everything they are doing on Instagram and Facebook, in many cases, 24/7. Nowadays, even the young kid around the corner can earn money as an influencer.
Should Your Business Use Influencer Marketing?
So, should your business use influencer marketing? Well, the answer depends on the line of business your company is in. Obviously, for fashion, electronics, jewellery, shopping, travel and other related sectors, influencers can affect their followers significantly. They will not just boost your audience levels, your engagement rates and client impressions but they can ultimately improve your brand identity, increase sales and create a genuine image for your business.
That does not mean that other industries cannot benefit from the use of influencers. The only difference is the form they are used in. In finance, investment and real estate for example, an influencer can endorse a brand and provide an indirect brand boost that will increase conversions among the brand customers, collaborators and partners.
There are millions of influencers in both Cyprus and on an international level, that are available to improve your business and brand.
What type of Influencers must I choose?
As a business, you need to choose which type of influencer would suit your brand the most. Although there are apparent advantages, picking an influencer or using influencer marketing strategies would be a wasted investment if you're not working with the right ones.
Even though it's tempting to use single-metric definitions such as Twitter or Instagram followers as a measure of influence, it's imperative to look deeper. Here are some points you need to consider when identifying an influencer for your business:
Relevance
Firstly, you need to examine whether the influencer's or blogger's content is aligned with your business and brand. You do this by checking and researching their archived posts or previous messages to understand what type of influencer they are. Perhaps you're looking for a fashionista, a traveller or someone tech-savvy.
Reviewing their content is crucial because the type of audience of an influencer is more important than the traffic. There are many factors that play a role here which we can discuss by contacting us here.
Engagement
This is the indicator of how interactive the influencers' audience is with their content. You need to see if the influencer's audience responds, comments or even shares their content. How the audience engages with the influencer and how often they revisit their profile, are indications of how strong of an impact they have on them.
Frequency
There's a direct correlation between how often influencers post, make a statement or promote a product and their traffic and rate of return visitors. In any marketing campaign, it often takes multiple exposures to get a follower to visit your website or connect with your business, so you need to make sure they come back.
When an influencer works consistently by posting high-quality content and material, followers are likely to learn more, bookmark and share that information. Influencers that don't post frequently tend to have fewer return visitors, less loyalty and possibly risk losing their following.
Authenticity
Influencers with a large following and a smaller ratio of sponsored content tend to be more trusted and appear to be authentic. Usually, their content will include genuine use or mention of a product or service. This produces trust between the influencer and their audience. A powerful story or message will help get more shares and comments.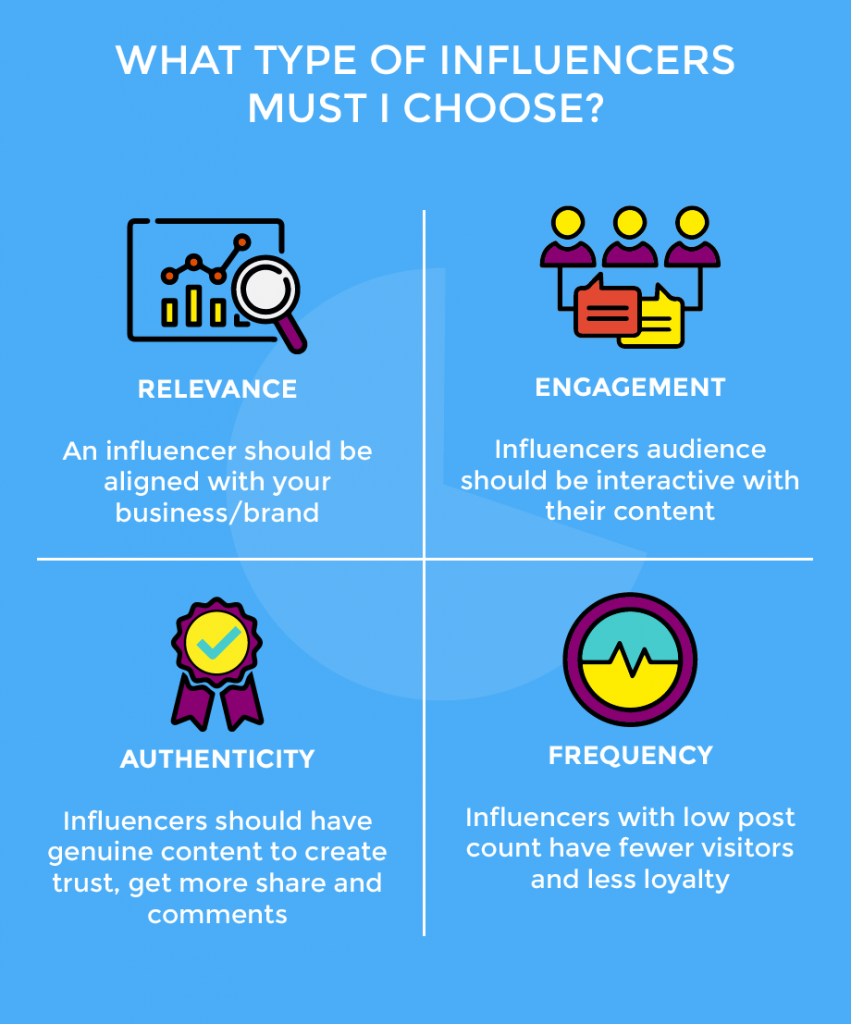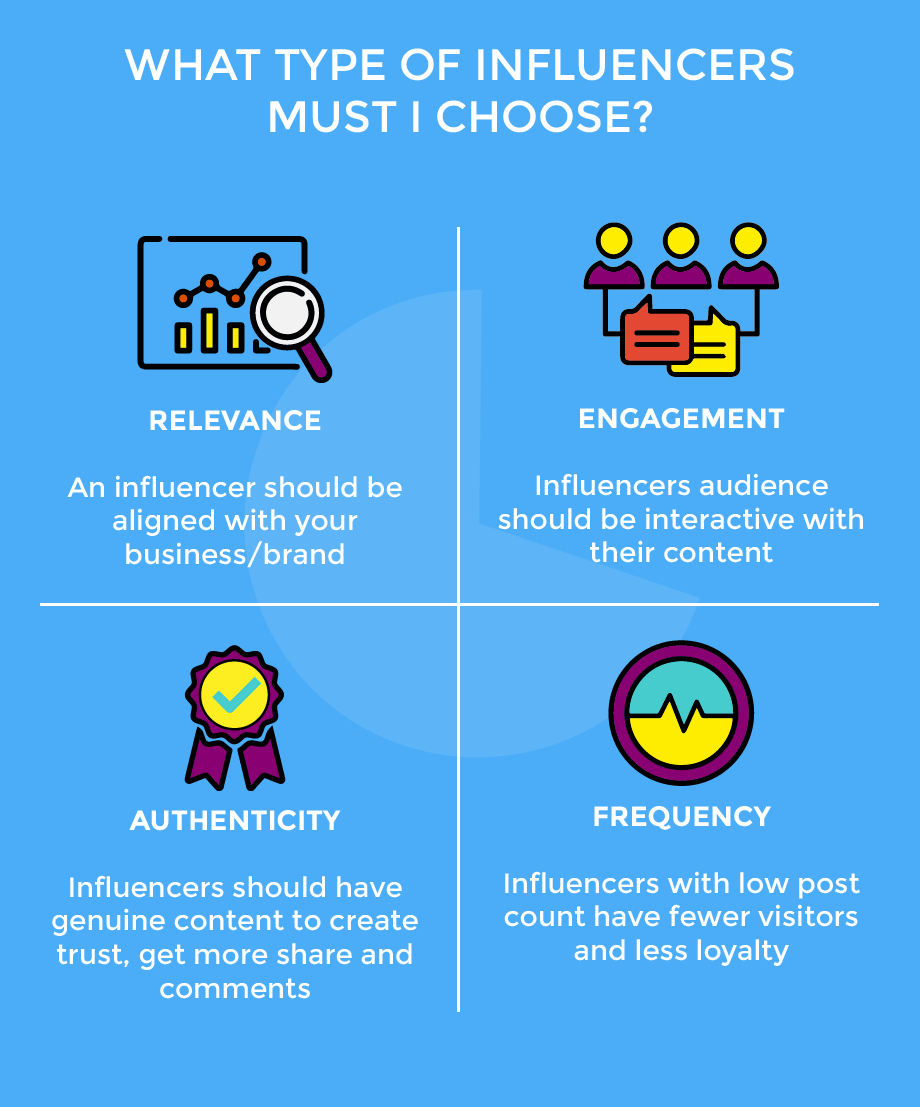 What is the cost of using Influencers?
Today, the influencer marketing industry has grown into a multibillion-euro industry, with brands large or small viewing this practice as an easy way to showcase their products or services.
Up until recently, companies and brands that sent influencers a free product or offered to pay a small commission for their consideration would receive a casual promotion or even a shout-out. As time progressed, companies saw the potential of this "marketing tool" and caused the "power balance" to flip, which has made influencers demand higher fees for each post, advertisement, mention or service placement.
A recent report shows that football star Christiano Ronaldo earned a staggering amount of €63mil from paid Instagram posts, each post was worth approximately €1mil. Other celebrities like Lionel Messi (€30mil), Kendall Jenner (€20mil) and many more have made fortunes through paid Instagram posts also.
To get a better perspective of the average costs internationally, influencers with around 10k followers could be anything between getting free use of service charge or €100 per post or promotion. An influencer with a following of 100k – 200k could charge between €250 – €1000 per post and if an influencer has an audience 1,000,000 then this individual could charge around €10,000 for each post. Costs vary depending on the country and continent they are from but also on the type of quality they offer.
In the Cyprus market, there are thousands of influencers that advertise on their social media channels. The cost is anything between getting a free product or use of service for influencers with 50k followers, or paying €500 – €1000 for influencers with up to 100k – 200k followers. Some will go higher with budgets depending on the quality and followers of the influencer. The costs differ slightly due to reputation, engagement rate, production cost, follower count, frequency of sponsored posts, as well as the marketing perspective towards their self's as influencers. Long term commitments with companies will result in lower costs!
Most companies will say that using an influencer is excellent value for money when compared to traditional advertising and PR activities.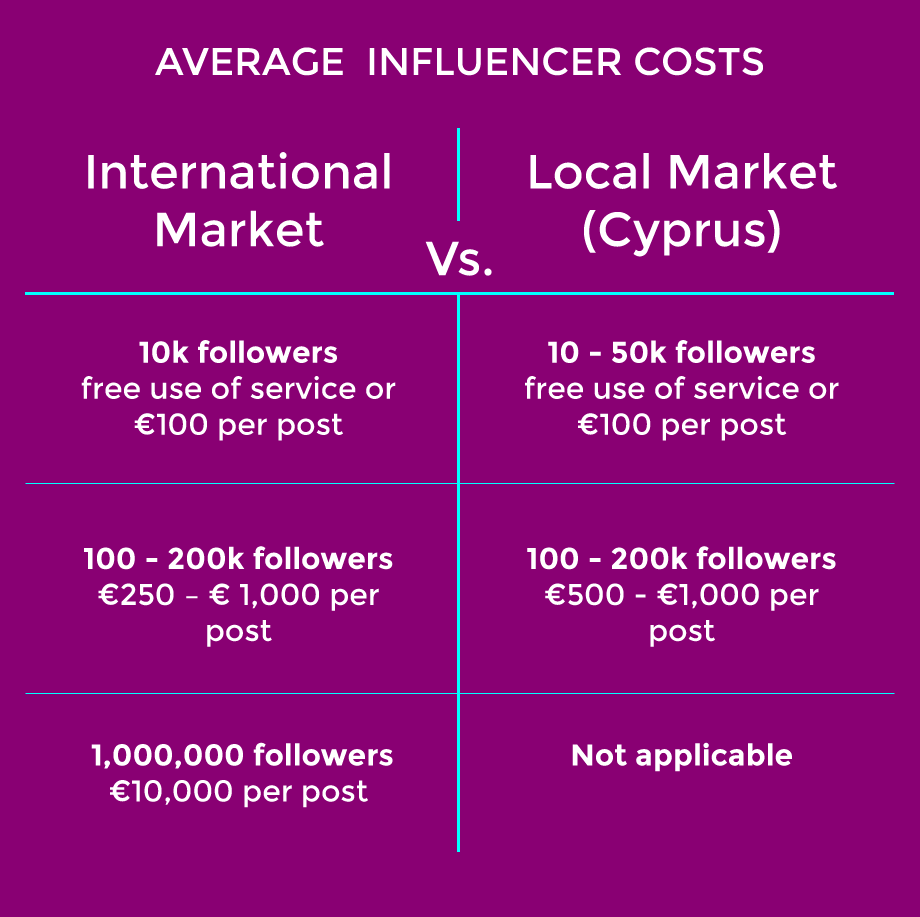 How do you Measure the Success of Using an Influencer?
There are numerous ways to measure the success of using an influencer but we will focus on the four most important ones:
Set goals
You need to ask yourself if you have a solid plan for what you want to accomplish with your influencer. Do you have an objective, a goal? If not, you need to set one.
You need to set a realistic target, for example, if it's to have 1000 followers by the end of the year, on Facebook, Instagram or LinkedIn, then this, in turn, will help you measure your success. This will allow you to see if you're using the right influencer and if they are successful. Setting goals enables you to have clear expectations of what you want to achieve and will allow the influencer to create a plan that's effective to your business.
Monitor traffic
Before you begin using an influencer for your business and launch your campaign, you will need to take a look at your website traffic first. Then, as your campaign progresses, take daily or weekly notes, adding all the details, including the dips and spikes. Finally, when your campaign is over, record what your traffic looks like and then you should compare notes to see how effective the campaign was when you used your influencer.
In the case of your social media platforms, you should check to see your follower counts and what kind of engagement rates you have accumulated.
Track impressions
Tracking impressions help you understand how many people looked at your content. Influencers will reach thousands of people daily but do not confuse impressions with engagement. Impressions represent the number of individuals that actually saw your content, rather than engaged the content in other ways.
Track engagement
Engagement has many forms on various social networks. Most know them as Likes, Comments, Shares, Retweets or Reactions. These are a good way of showing what level of engagement an influencer has with his followers.
You can track engagements by adding up the likes and comments to determine how many people have engaged with your business or social networks. By dividing the number of likes by the number of impressions, you can calculate the engagement rate metric.
A Final Thought
Influencer marketing is an old technique that's transformed with technology. This new form of social media marketing could impact your business as online activity plays a vital role in offline decision making. If you are considering using an influencer and/or an endorsement from a high-profile individual, get in touch with us and we may consult you on the matter.
Published on January 13, 2020