An online presence is essential for a business to thrive, a fact many business owners are aware of. What many are unaware of, however, is that the way their website is built is just as crucial, as their website is where most of their online presence is centred.
It is no secret that WordPress is the best Content Management System (CMS) currently available. After all, its incredibly user-friendly dashboard has led nearly a quarter of all new U.S domains to select WordPress as their content management system. In fact, over 50% of all CMS-run websites are powered by WordPress. Therefore, it is evident that, with its extremely mobile-friendly nature, WordPress is the best CMS for web design and development in most cases. However, the question in the minds of many business-owners mulling the launch of a new website is the same: should I opt for a Ready-Made theme or a Custom Design?
Read all about the Pros and Cons of each below.
PROS: Ready-Made Theme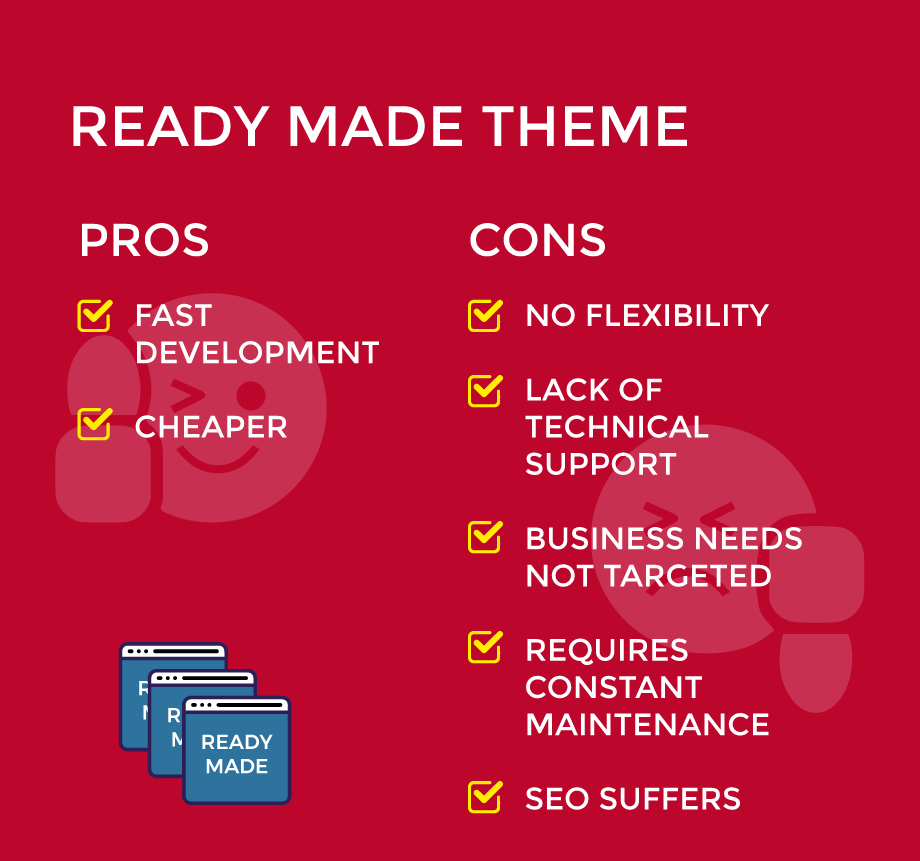 The benefits of utilizing a Ready-Made WordPress Theme are obvious:
A faster development period. As indicated by the name itself, with a Ready-Made WordPress Theme, the website's framework is already built out and so no time needs to be spent on creating the website's foundation.
Good for a tight budget. If your business is relatively small and working with few funds, the appeal of a pre-existing WordPress theme is obvious. A Ready-Made Theme will cost less than a Custom Design, although it is worth noting that you get what you pay for.
CONS: Ready-Made Theme
However, the easiest way is not always the best way, and this certainly rings true when it comes to WordPress web development.
Although the inclusion of a pre-existing framework for the website in a Ready-Made Theme was previously mentioned as a positive pro, it is undoubtedly a double-edged sword with the blade being sharper on the con side, as it comes with a slew of disadvantages:
No flexibility, especially when compared to a Custom Design. This means that if your website is created with a Ready-Made Theme, it cannot grow and evolve. There is quite literally no room for your website to expand as you are essentially limited to what an unknown developer has devised. If you have envisaged your own ideas for your website, you should be ready to compromise massively on your ambition. Expect to make major sacrifices on your concepts.
Finding support for the theme is incredibly difficult, as the developer is unknown to you. You will have to make the most out of what you are already given and abandon your own ambitions, which isn't exactly the defeatist attitude a successful entrepreneur has.
Not created with your business' particular needs in mind. These themes are pre-developed by an unknown individual who created them to accommodate thousands of other faceless people. Therefore, you can expect the theme to be a lowest common denominator template, simplified to the point where it will most likely be unable to meet your business' needs. You run a real risk of creating an unsatisfactory website that is essentially worthless to you.
Constant maintenance, as well as frequent updates, are required to ensure your website's functionality, as the possibility of many glitches is very real with a Ready-Made Theme. WordPress updates are frequently issued and because of this, theme functions must be updated often to combat compatibility issues. To add insult to injury, some of the Ready-Made Themes do not offer updates in a timely manner, resulting in fatal errors.
Themes are usually developed for a multitude of websites, all different in nature. The same theme may be applied to a wide collection of websites, ranging from e-commerce and hotel booking to standard portfolio sites. To accommodate these vastly different needs, Ready-Made themes are usually loaded with a plethora of plugins, customizations and tweaks that (for the most part) will never be used by your own website. These heavily complicate the website's CMS dashboard and compromise the website's speed, security and maintainability. In the long run, Ready-Made themes tend to cost considerably more than their custom-made counterparts both in terms of effectiveness and maintenance.
Your website's SEO will suffer. All leading search engines prefer to promote unique, innovative websites and services in a bid to satisfy their audience. They are thus more inclined to promote Custom Design websites more than a run-of-the-mill one. Ready-Made templates are usually duplicated and used by thousands of others. For obvious reasons, search engine algorithms do not favour such sites. This means that if you use a Ready-Made theme, your website will be harder to find when one searches online for a business in your field, and rival businesses will be placed higher up a search engine's result list than yours.
PROS: Custom Design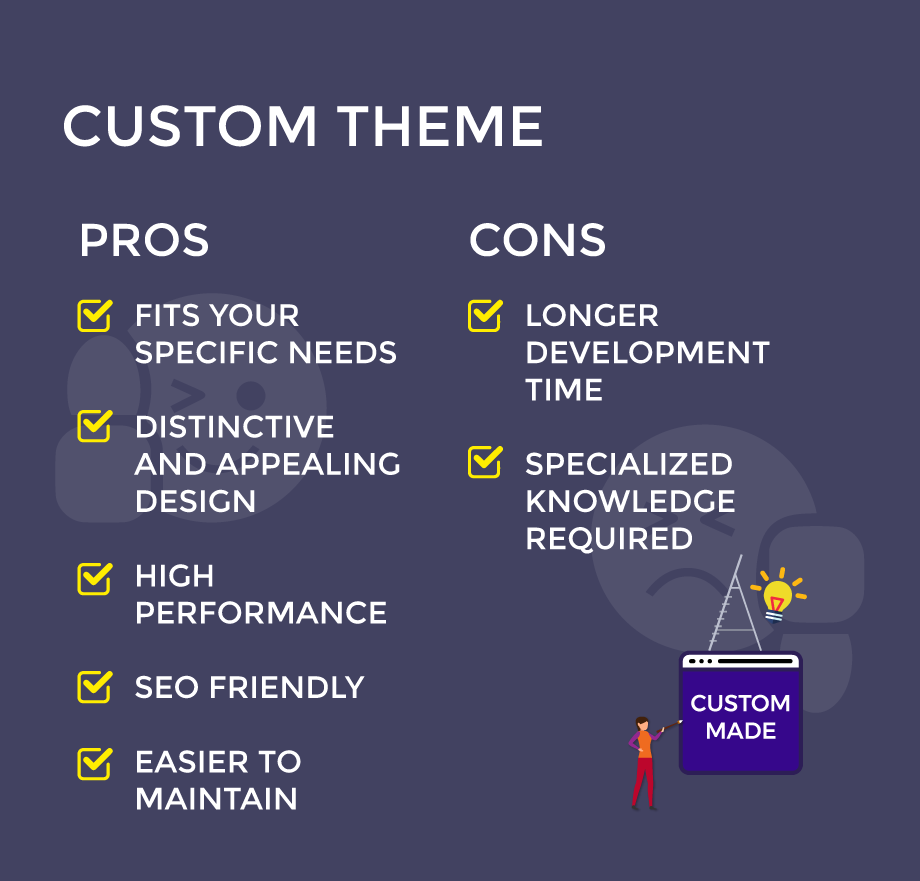 Although the difference between a Ready-Made WordPress Theme and a Custom Design may not be immediately clear to the untrained eye, the difference is just as pronounced as that between a suit bought off a rack, and a custom-made suit perfectly tailored to fit your body. This is an important metaphor to bear in mind when considering Custom and Ready-Made Designs. Custom Designs offer:
Flexibility that fits your needs like a glove! Unlike a Ready-Made Template, a Custom WordPress Design allows for flexibility within the coding so that your ambition can be met. There is no need to be restricted by whatever obstacles have been imposed by an unknown developer, as either you or a web designer you contact will be in charge, catering to whatever your business' needs are. Whatever plans you have in mind for your website, they will most certainly come to fruition with a Custom Design, as you are free to decide how your website is structured.
A Distinctive Design. Your business is unique and deserves a website design reflective of its distinctive character. It is important to remember that the website is representative of the business itself.
When compared to a Ready-Made Theme, a Custom Design offers a plethora of advantages, including an improved:
Website Performance
Maintainability
Scaling
Refinement
Appeal
Higher Search Engine Rankings (SEO friendliness)
CONS: Custom Design
Specialized knowledge is required. An individual with no coding knowledge will most certainly be unable to create a Custom WordPress Design, whilst those with some coding knowledge will frequently find difficulty and encounter problems. Consequently, a custom WordPress design is not easy for the inexperienced.
A longer development period is needed. Creating a WordPress design from scratch is significantly more time-consuming than making use of a pre-existing template.
What Should You Go For?
When considering both the pros and cons of each, a Custom WordPress Design seems like the best option. Whilst the Ready-Made Theme's cons clearly outnumber the pros, the Custom Design's cons can very easily be overcome, especially if you leave the creation of the website in our capable hands!
What are you waiting for? Ensure your website is the best it can be by contacting us!
Published on December 23, 2020