With every new year come new trends. If there is anything 2020 has taught us, it is undoubtedly that things can change drastically in the few milliseconds it takes to bat an eye. Because of this, it is important to adapt and improvise in accordance with the happenings around us. Unfortunately, the grim lockdowns and restrictions of yesteryear have carried over into 2021.
The Importance of Digital Marketing in the COVID Era
Digital Marketing is more important in 2021 more than ever due to the Coronavirus. With many nations reporting their own highly infectious strains of COVID-19 and many countries entering their third national lockdown since the beginning of the pandemic, marketeers have no choice but to increase and solely focus on their online digital marketing efforts. Lockdowns, curfews and the retail sector's mass exodus from a physical realm of operation to an online one have now become a way of life. If the rising case numbers and highly infectious new variants of COVID are any indication, these restrictions are unfortunately here to stay for a while. To thrive in such trying times, it is vital that you prepare yourself and your business for the reality of 2021.
Brave the COVID crisis by becoming acquainted with the Digital Marketing trends that will dominate the new year.
Virtual Events Are Here for Good
Initially conceived as an alternative to the in-person conference as a way of working around Coronavirus restrictions, the Virtual Video Conference is set to become even more prominent in 2021 as more and more companies consider making remote working a permanent fixture of company policy even after the pandemic.
The practice is not only favoured by company staff and business owners who can save up on renting office space and commuting costs, but it is also becoming increasingly appealing for customers and consumers who no longer must leave the comfort of their home to participate in an event. By hosting such events, brands and businesses can promote their products simply by broadcasting out to all corners of the world, reaching a much larger audience at no additional cost.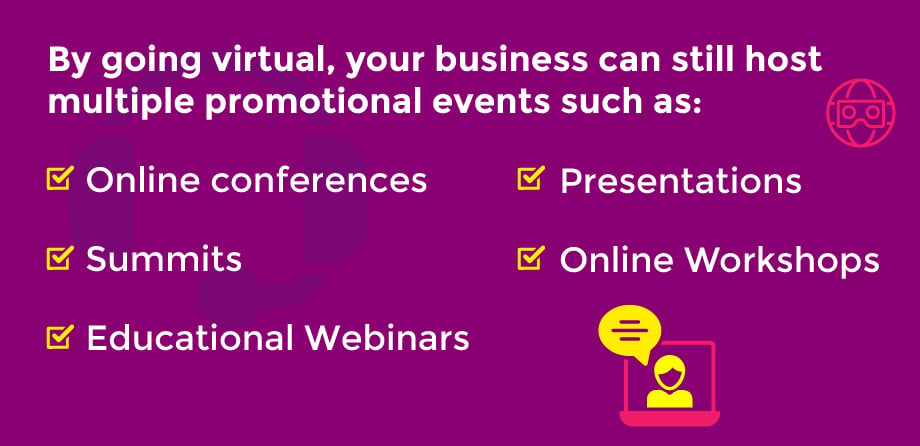 TikTok Time
Don't run the clock down on TikTok!
This video-sharing social networking service is a trend-making monster! TikTok has single-handedly managed to propel obscure musicians to the top of the charts and revive the careers of American celebrities whose star has long faded. Individuals like Jason Derulo have managed to revive their careers with a successful second act as social media personalities on the platform, whilst no. 1 smashes like Lil Nas X's "Old Town Road" and Doja Cat's "Say So" have become the smash hits they are due to the platform.
It would be foolish for a business not to take advantage of such an incredible promotional tool! If you are looking for the perfect time to take advantage of this social media giant's massive popularity, 2021 is most certainly it. Arguably the most popular social media platform at the moment, TikTok is set to exceed the one billion user mark this year, with the number of estimated users projected to soar as high as 1.2 billion.
There are multiple ways a business could take advantage of the app's huge success, especially as it allows brands to crack the much-desired younger demographic. The easiest method for businesses to capitalise on TikTok's success is by including their own ads on the social media platform which will undoubtedly reach an extensively wide audience.
If you dare, the more ambitious and creative businesses could attempt to create their own viral TikTok based on already existing trends. Doing so is easy – have a look at what is already trending on the app and put your own unique spin on it.
For example, here is the "It's Tricky" TikTok template:
Two options are featured on either side of the screen
Families, friends or couples indicate their preference out of the two options by recording a video of themselves heading towards the direction they prefer
The video is set to the RUN-DMC track "It's Tricky"
A business could very easily take advantage of this TikTok template. E.g., a pizzeria called "Angelo's Pizza" could label its two choices "Angelo's Pizza" and "Any other food" and have a group of friends or family all walk towards the "Angelo's Pizza" choice. Bear in mind that the wittier the TikTok, the more chance of it becoming viral and reaching more people.
Influencer Marketing Will Become Extremely Influential
Another highly effective Digital Marketing trend that is set to increase in popularity is Influencer Marketing.
This approach relies on the classic, tried and tested idea of "celebrity endorsement" but places it within the context of a modern marketing campaign. As a modern audience seeks individuals whom they can relate to, marketeers flock towards "influencers", popular individuals from all walks of life who have a notable online presence and a sizeable following on social media. The latter is what makes the individual an "influencer": their ability to reach a wide audience.
The appeal behind the influencer is re-affirmed through research which has proven that people are more likely to trust them, as they have already made a conscious decision to follow the influencer on social media. This pre-existing relationship results in an emotional connection between the audience and the product you are trying to promote.
The Web Theoria team has found this to be a particularly successful approach for our "Explore Cyprus. #Pame Vouna" campaign in which various Cypriot influencers from a wide variety of backgrounds participated.
The Prominence of Video Marketing is Clear to See
Although video marketing is not a brand-new idea, what is new is just how important video marketing has become this year. In fact, video marketing will flourish in importance as people are encouraged to stay indoors. People will eventually become bored with the familiarity of their surroundings and as they become inundated with dull text-based information either because of work or school, they will seek more video content online.
A business could benefit from the tiresome reliance on text-based mediums, as well as the fact that over half of the world's population are visual learners. These two factors create the perfect condition for commanding a potential client's attention.
Conversational Marketing and Social Messaging Will Become a Must
As the year progresses, it is looking increasingly likely that people will have to continue quarantining, inevitably leading to a desire for human interaction beyond their household.
Conversational Marketing and Social Messaging emulates the structure of a real-time conversation by asking a website visitor one question at a time. These questions are either automated through the help of a chatbot or are the result of interaction with an actual person through social messaging apps.
The experience of a conversation successfully builds a relationship and consequently trust between your business and the customer, making it an exceptionally good approach.
Prepare Yourself for 2021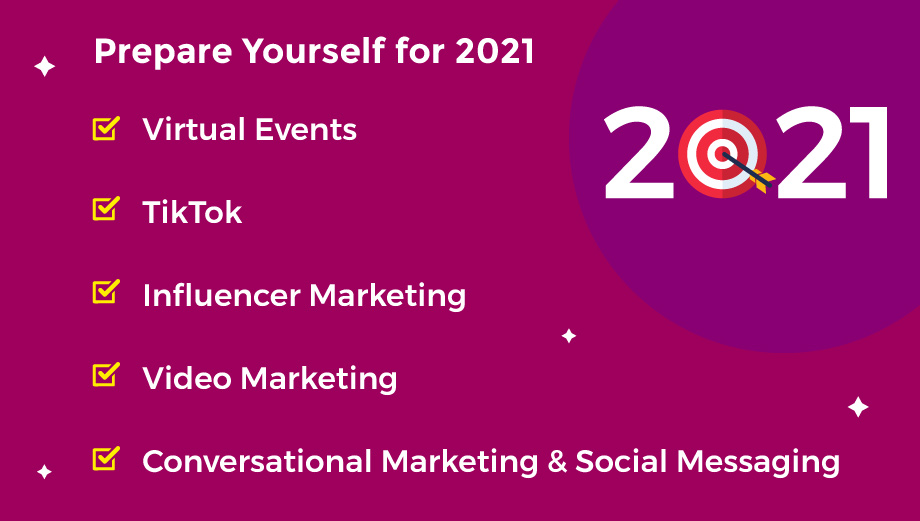 Make sure your marketing is up to date and can weather any storm 2021 brings! If there is anything the previous year has taught us, it's to prepare ourselves the best we can for the worst possible scenario. We can do so by reflecting on the lessons learnt last year.
Given the almost post-apocalyptic nature of 2020, brands are opting for a more relatable and human experience in their marketing. Marketing methods that successfully emulate human interaction will increase in popularity this year, which is why we recommend you take advantage of them.
Nevertheless, these trends can only take you so far without a solid base of quality content throughout your marketing channels. Our team at Web Theoria can help you navigate the turbulent year ahead. Get in touch with us to ensure your business thrives in 2021!
Published on January 25, 2021