How can I utilize social media effectively to attain the desired outcomes? On which social media platforms should I primarily concentrate? What methods yield the best results? These are the recurring inquiries we receive from our clients on a daily basis.
In an era dominated by social media, chat apps, and other digital communication tools, email marketing has managed to retain its position as one of the most effective mediums for businesses targeting both B2B and B2C audiences.
What is email marketing?
Email marketing is a marketing technique aimed at informing clients on our customer email list about new products, discounts and additional services. It can also serve as a gentle approach to educate our clients' audience about the value of their brand or keep them interested even when they don't make an immediate purchase.
Advantages of email marketing
Personalization and Precision Targeting
Email marketing enables us to create personalized and precisely targeted campaigns for our clients, leveraging their customer data and behaviour. Using advanced segmentation and analytics tools, our company can deliver highly relevant content to recipients, leading to increased engagement and improved conversion rates.
Streamlined Operations with Automation
Integrating marketing automation platforms like Mailchimp and HubSpot has revolutionized email marketing by streamlining processes and improving efficiency. Through automated workflows, personalized drip campaigns and triggered emails, our clients can maintain consistent communication with their audience, freeing them from the burden of manual intervention.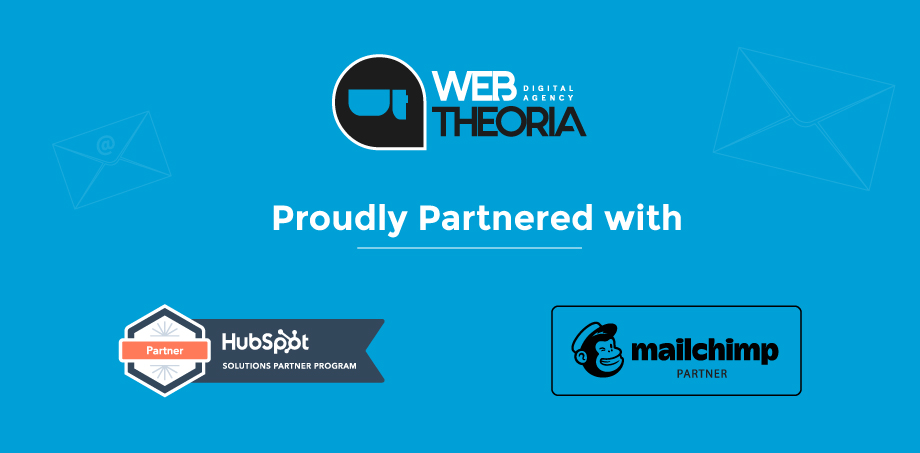 Web Theoria is partnered with Mailchimp and HubSpot, and through this partnership, we have managed to provide our clients with improved services and results.
Mobile-Friendly Accessibility
As smartphones become more and more common, email has seamlessly adapted to this trend, becoming a mobile-friendly communication channel. Responsive email design ensures that messages display optimally across devices, allowing our clients to reach and engage with their clients wherever they are.
Accurate Measurement and Analytics
Email marketing offers robust analytics, allowing us to precisely gauge the effectiveness of our campaigns for clients. Metrics such as open rates, click-through rates, and conversion rates provide valuable insights. These insights enable us to enhance our clients' strategies and achieve improved outcomes.
It's important to note that due to ChatGPT, certain metrics and analytics, such as Google Analytics and newsletters, have limitations. Furthermore, in comparison to the past, it has been observed that newsletters now transmit much less data, impacting the metrics and diminishing the success that was once achieved.
To increase email marketing ROI, personalize the message
To improve the effectiveness of email marketing and achieve better ROI, personalizing message content is crucial. Building a strong email list that reaches a wide audience is key for successful email marketing. This can be done through methods like using sign-up cards or prompting online enrollment during purchases, both of which effectively encourage clients to share their information.
Effective email lists gather comprehensive customer details, including not only names and email addresses but also additional information like birthdays, preferences, and favorite sports teams. Smart business owners recognize the benefit of arranging special events tied to significant occasions, such as major sports games, to attract similar-minded clients. Understanding recipient expectations from email campaigns, whether for business updates, promotions, special events, or business-related clubs, allows marketers to customize promotions accordingly, moving away from generic emails.
According to Computerworld magazine Thuerk's email list had only 400 addresses, but the email he sent resulted in approximately $13 million in sales. Based on this we understand that email marketing is a cheap way of communication.
Email marketing continues to thrive as the most effective medium for both B2B and B2C businesses in 2023. Its ability to deliver personalized content, automation features, mobile optimization, measurable results, and high ROI all contribute to its enduring success.
As Web Theoria we are very happy because email marketing is what we need for the market we operate in and our clients.
Published on October 19, 2023