Ever wondered how some businesses stay so organised and productive?
If you have a business of your own, you know how important it is to stay on top of things. Organising meetings, coordinating team members through different projects or tasks and most importantly meeting your deadlines and keeping clients satisfied are all extremely important tasks that can make or break any given business.
Even in the thickest amount of work, stress and chaos, most businesses and specifically individuals with managerial positions, remain confident that they will accomplish their goals.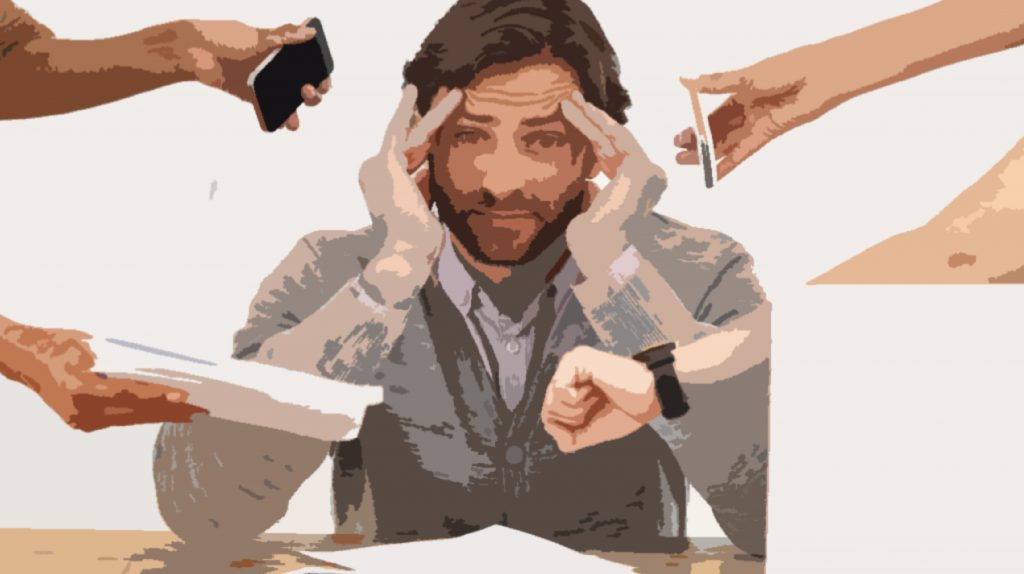 How do they manage their time and work efficiently and productively?
Some individuals can remember up to 5 To-Do's, but if you have more To-Do's, then it gets hard to keep track of things. There's only so much you can keep in a diary, and then you have to share that information with your team and partners perhaps. This is exactly where Trello comes in and takes care of business.
Introduction to Trello
Trello is a tool that helps millions of people around the world organise, arrange and manage different tasks, projects and events. With over 25 million sign-ups and over 1 million active users daily, it has proven to be an effective, efficient and essential tool in the business industry.
Trello is free but has 2 paid subscriptions for those who wish to have more security, team members added, more permissions and fewer restrictions.
It has many features that work in favour of businesses, but also works nicely for personal use, like organizing weddings, scheduling a dentist appointment or arranging your next vacation.
How Web Theoria uses Trello
Here at Web Theoria, we use Trello to track the progress of our projects, not only for the process of designing a website for a Cyprus company but also for our maintenance, support, digital marketing services and any other task that is fundamental and involves a number of people to complete.
It's obvious that we use other important tools and methods of communication to help productivity but also allow us to be effective with the evolving requirements that this space demands.
Keeping track of Time and Work
Because Trello is a multi-tasking tool, you can use it in any way that suits you best. Each user will find the way it may be most useful to them.
Trello has "boards" which represent anything you want, for example, an appointment, a list of To-Do's and a project name or plan. The most common board is usually a 'Things to Do' board, which would normally consist of the following 'Cards': Work to Do, Work in process and Work completed.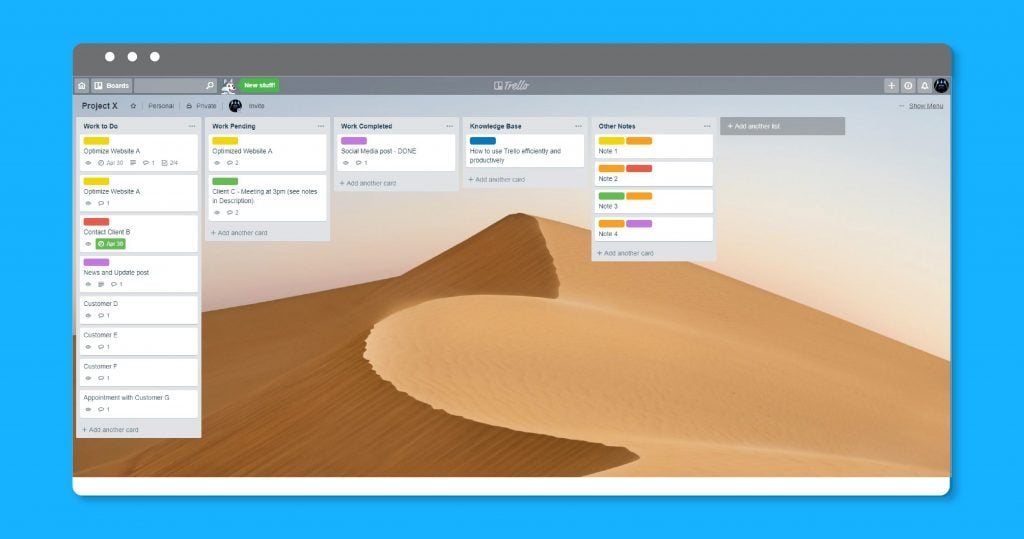 As you may have noticed in the image above, this is a basic example of how you can structure a project board. This allows you and your team to clearly see what work needs to be done and what stage each project is at.
Allows team members to see the state of every piece of work at any time.
You can add as many cards as you like without worrying about them getting lost. These cards ARE your tasks and these are very important to keep track of.
Work to Do – This list is where you place the tasks you need to get done. The cards within this list can be moved up and down easily and freely to prioritize which one needs to be done first. You can add a coloured label to separate tasks by the client for example and make them easier to track on the board. Once you have started a task you can drag and drop it into the next list – the "Work Pending" list.
Work Pending – This list shows what the current status of the specific project is at. You can add notes, descriptions or due dates and keep further track of the progress of every task. If the work here is done pending and thus completed, you can drag and drop this card into the next list.
Work Completed – This list will have all the work or tasks that are done, approved or completed. You can add some final notes within each card here, which can be stored for future reference.
Knowledge Base – The knowledge base list can be used for either personal use, business-related use, or specific projects. Here you can add additional notes regarding something you have discovered, tips you found, and research made for something. Here you can also add anything that may be used later, that will help you with future projects and tasks.
Other Notes – Here you can add any other tasks or notes that you want to remember and are of secondary importance.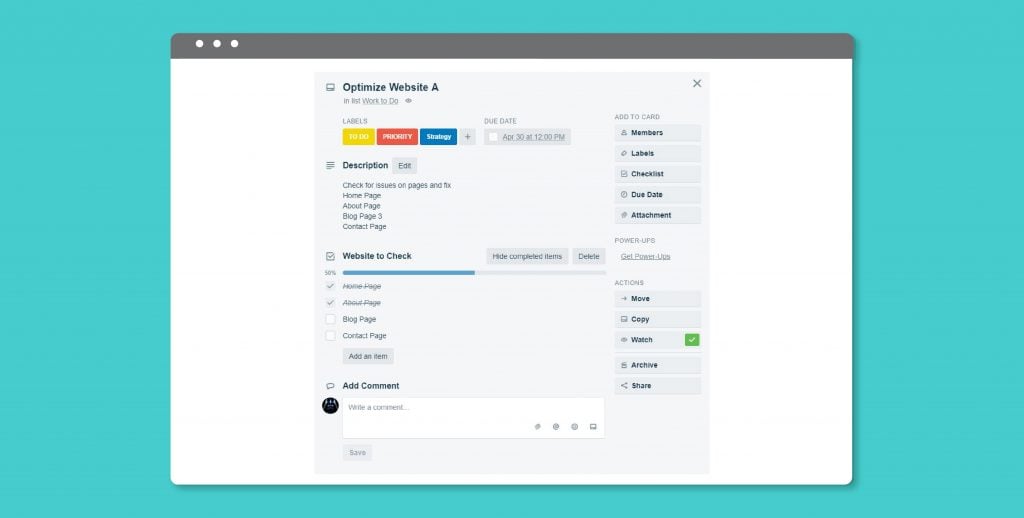 Trello Details
Trello doesn't end with just adding a list of cards and tasks to be done. It grants the user full control and the ability to add details to work needed doing.
Cards may include everything that will help you remember, follow up on and assist you in finalising the task. For instance, you may have the following:
Labels – Detailed labels that inform you of the task's status. Different colours are available that can be labelled. This way you can set priorities within your board and proceed accordingly.
Due Date – Every project or task has a start and end date. Add a due date to help you with being organised.
Descriptions/Comments – Each card can have its own description and comment section. Here you can add content that involves the card and keeps you in the loop of things. If any changes have occurred, you can make the relevant changes to the description at any time.
Attachments – You can add attached files to the card or links that can lead you to documents or sites helping provide further insight into the task at hand.
Checklist – Checklists are an amazing feature on Trello as this allows you to keep detailed track of where you are with your task. You can check boxes and Trello will automatically tell you what the completion percentage of that specific task is.
Members – Team members may be given access to the specific card for them to view at any time. This will allow them to add points or notes to it as well. This way you can both help with completing the task.
Actions – You can Create, Move and Copy any card from one member to another at any time, and assign on which Board and List you want your team members to see this card.
It's Efficient and Productive
Trello is simple and user-friendly without a doubt. It's a light app that enables team members in any business to transparently track, save, edit and share work-related data from anywhere. This is the secret behind its efficiency and productivity.
Trello is an organizational app that helps you keep your work and personal tasks in track efficiently and productively.
Not only does it offer all of the above features for free, but it also grants users a free service called Power Up which enables the ability to integrate with other applications like Google Calendar or GitHub.
There are many tools out there today that help businesses function with ease and in an organised manner and Trello is indeed one that we at Web Theoria use and will continue to use. Learn more tips and tricks on how we use Trello here.
Published on July 11, 2019