In our technology-driven society, if a small businessowner in Cyprus is serious about their company succeeding, they should ensure the creation of a notable online presence for it. The best way to do this is through Google My Business.
What Is Google My Business?
Google My Business is a useful tool for handling the online presence of local businesses and organisations in Cyprus. It includes search results on both Google's search engine, as well as Google Maps.
Google My Business essentially forms a business' online presence.
Easier Said Than Done
Although Google My Business sounds like a perfectly easy tool to use, many business owners do not realise that the process sounds a lot simpler than it actually is. Those who lack appropriate knowledge will easily get lost in the labyrinthine process.
It is important to note that Google My Business is a local Search Engine Optimization (SEO) and lead generation tool which requires specialist SEO knowledge and internet marketing expertise, two fields our Web Theoria team is heavily experienced in.
What We Can Do for Your Business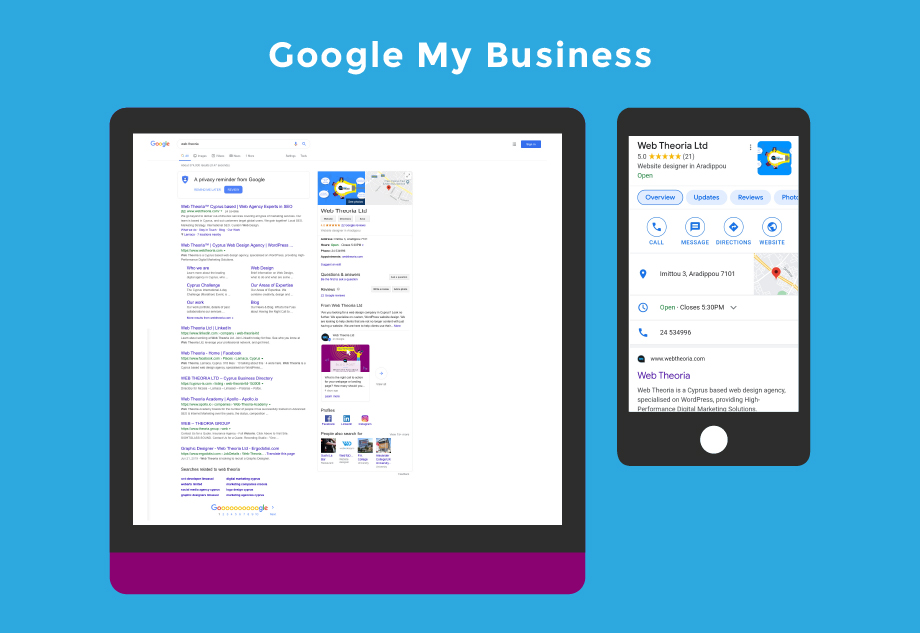 Through Google My Business, Web Theoria can:
Make your business more visible
Add your Business onto the most popular online map service: Google Maps
Create a seamless, direct link between your business' website and social media
Immediately provide interested clients with your business' vital contact information such as your telephone number and location
Help potential clients find your location and contact you with a simple click of a button
Present your business' latest news, operating hours, photographs and reviews on Google
Observe your website's traffic and audience to inform you whether your business is reaching its intended target audience or not
What If My Business has Multiple Branches?
If your business has multiple branches throughout Cyprus, uploading your Business onto Google becomes slightly more challenging, yet still possible. For example, if your business has a total of 11 branches – 4 in Nicosia, 3 in Limassol, 2 in Larnaca, another in Ayia Napa as well as 1 Paphos branch, we can make all of them visible, perfectly communicating that your business has multiple branches whilst still preserving your company's singular identity.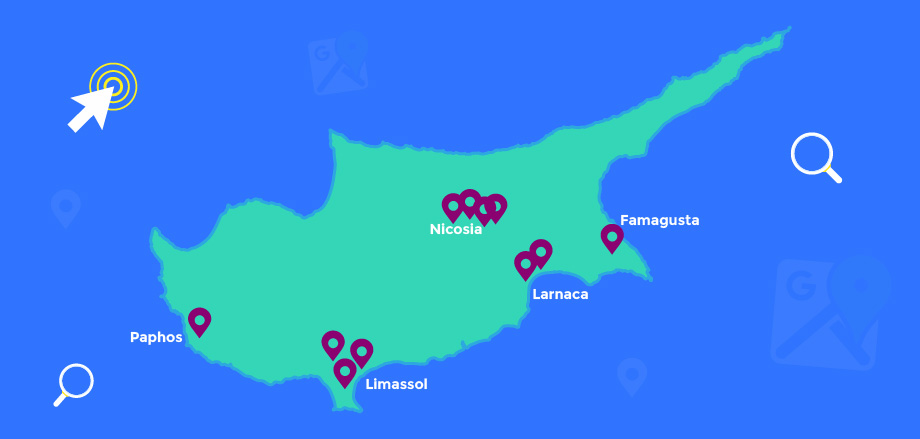 The way this happens is through an experience that seamlessly serves both your business as well as the potential client. For example, consider this scenario:
You own a chain of D.I.Y stores with multiple branches throughout Cyprus. Two are in Larnaca: one in the City Centre and another in Aradippou.
Michael, who lives in the neighbourhood of Drosia, searches for a D.I.Y store on Google.
When Michael sees your business, he would see the City Centre branch first as it is closest to him, whilst the Aradippou branch would appear second, with the remainder of branches appearing in order of proximity to Michael and his neighbourhood, Drosia.
The Most Tiresome of Tasks
As intricate as the setting up of Google My Business is, its most time-consuming aspect has to be the constant maintenance required. Updating working hours in accordance with public holidays or even coronavirus restrictions, as well your business' latest news is an almost strenuous process that many businessowners, no matter how hands-on, would find difficulty with keeping up on a regular basis.
In addition, deciding which news and photographs of your business to share online is a delicate process best left to individuals with marketing experience. Uploading the wrong photograph or information could damage not only your business' online presence but could discourage potential customers from visiting your business.
Nevertheless, this does not mean that you should avoid Google My Business altogether. The cost of doing so is simply too high.
What You Are Missing Out On
Avoiding Google My Business is a very risky move that could have devastating effects on your business.
Nowadays, if your business is not online, then it might as well not exist! Even though this may seem like a slightly exaggerated statement at first glance, it is not. Anyone searching for anything will do so online as the World Wide Web is everyone's go-to source of information. If your business is not listed on Google's database, when a potential customer searches for a D.I.Y store in Larnaca, they will be unable to find it!
Yes, believe it or not, even in smaller countries like our little island, people can be unaware of your business. Although word of mouth has proven to be a particularly useful strategy for advertising in Cyprus over the years largely due to our population's penchant for gossip, times have changed. Lockdowns are being enacted and a mass shift online is taking place. People are more likely to find what they are looking for online rather than asking their friends, family, or for directions
By missing out on Google My Business, you are missing out on customers.
Get in Touch with Us!
If your business does not have an online presence yet, we cannot stress the importance of ensuring it has one.
For a wide range of services including the handling and maintenance of Google My Business, websites and marketing services, our team is ready to assist! Contact us today to create a strong online presence for your business!
Published on March 01, 2021